Wearable spy cameras are discreet, hidden devices that allow you to record video and audio without being noticed. These tiny gadgets are built into everyday items like glasses, watches, pens, and keychains, which makes them perfect for capturing footage in a variety of situations. Ideal for private investigators, security professionals, and even curious individuals, wearable spy cameras offer a clever and covert way to keep an eye on things.
In today's fast-paced world, the need for discreet surveillance solutions is on the rise. The increasing demand for wearable spy cameras can be attributed to various factors, such as the public's growing concern for personal safety, the desire to gather evidence in legal matters, and the expanding influence of social media culture.
The market offers a wide range of wearable spy camera options catering to diverse needs and applications.
Types of Wearable Spy Cameras
The wearable spy camera market is vast and diverse, offering numerous options for those seeking discreet surveillance solutions. Aside from the spy cameras that we carry, such as ultra-slim built-in cameras, cameras in spyglasses, micro cameras in pens, spywatches, and spy cameras in keychains, there are other types of small wearable spy cameras that cater to various needs and preferences. These include:
Body-worn cameras: These are specifically designed to be worn on the body, often clipped or mounted onto clothing, belts, or backpacks. They are typically used by law enforcement officers, security personnel, and journalists for evidence collection and documentation purposes.
Spy cameras in jewelry: This type of wearable spy camera is concealed within jewelry pieces such as necklaces, bracelets, or earrings. Such devices provide a more discreet and fashionable option for those seeking to record events or gather evidence without attracting attention.
Cap or hat cameras: These wearable spy cameras are integrated into the design of caps or hats, providing an inconspicuous method of recording video and audio. The camera is typically hidden on the brim or front portion of the hat, allowing for a clear line of sight while maintaining a low profile.
Hidden cameras in wristbands or fitness trackers: Wearable spy cameras can also be concealed within wristbands or fitness trackers, blending in seamlessly with common accessories. These cameras enable users to capture video and audio discreetly while performing everyday activities, such as exercising or walking.
The market offers an extensive array of wearable spy cameras, each designed to address specific needs and preferences. This variety ensures that individuals can find a suitable device for their particular requirements, whether it be for personal safety, legal matters, or content creation.
Ultra Slim Built-in Spy Camera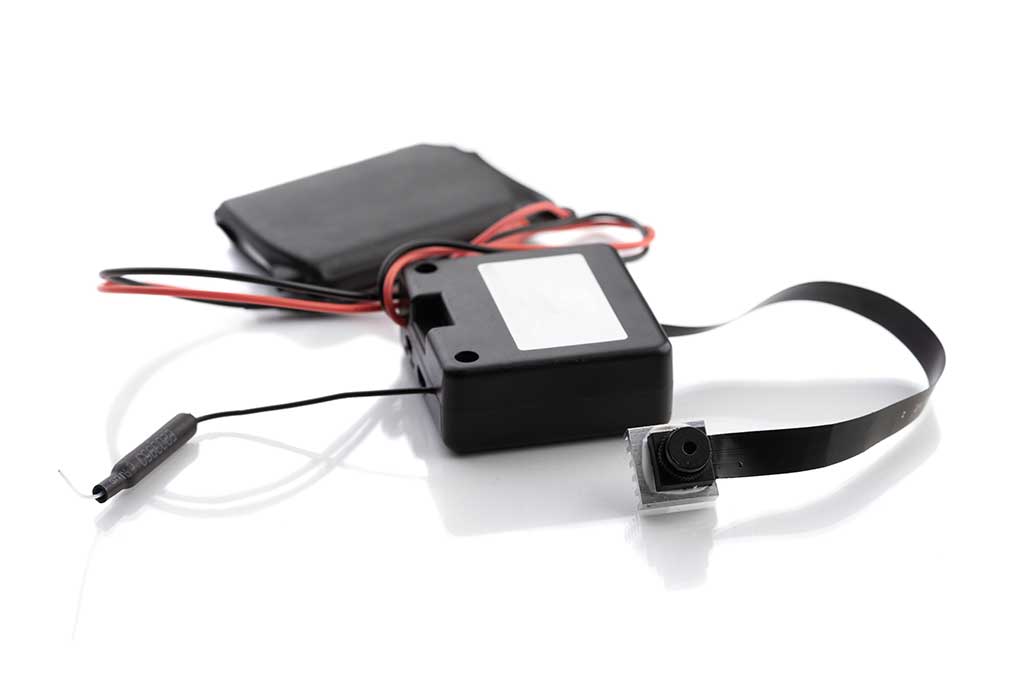 This miniature built-in camera with audio is ultra slim and discreet. As a result, you can easily conceal it in any object or environment. Its ease of use, audio-recording features, and motion detection make this camera rather practical and useful.
Thanks to its HD resolution and night vision, this device can record footage in great detail even in the dark. Due to its flexible power supply via batteries or a USB port, you can use this camera in a variety of situations.
Among the cutting-edge spy cameras for clothes, the ultra slim built-in spy camera stands out due to its sleek design and unobtrusive appearance. With the ability to be placed on a variety of clothing elements, such as shirt buttons, jacket lapels, collars, neckties, or even hats, this camera offers users numerous options for covert monitoring.
This ultra slim built-in spy camera includes the following features:
Capturing photos and audio/video footage
Watching live
High resolution of the recordings: Full HD ≤ 1920 x 1080 P, providing clear images and videos
IR Night Vision: Infrared diodes, which enable it to record at night or in dimly lit environments
Wide recording angle of 120°
Internal memory: A slot for an SD card (up to 32 GB), with the option of storing the files directly on the cell phone
Battery and USB power supply
Price: 85 – 130 EUR
Camera in Spyglasses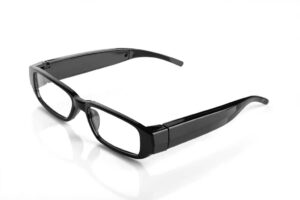 This micro camera built into glasses with audio is a practical spy device that allows you to record footage discreetly in a variety of situations. Perfectly camouflaged, it doesn't raise suspicions, and it allows you to move freely, even in extreme conditions. You can activate it easily, by clicking the button located on the frame. It can be installed into different types of glasses, including eyeglasses, sunglasses, and glasses used for sports. This is an ideal spy tool for secret recording of business meetings and negotiations, lectures, private conversations, and sports and driving adventures.
The features of the camera in spyglasses include:
Ability to photograph and record audio/video footage
Full HD 1920 x 1080 P video and photo resolution, ensuring sharp visuals
Wide recording angle of 90°
Storing footage on an internal SD memory card (up to 32 GB)
Powered by rechargeable batteries with great autonomy
Recordings played by connecting the camera in spyglasses to another device (a PC, tablet, laptop, etc.)
Price: 95 – 120 EUR
Micro Camera in a Pen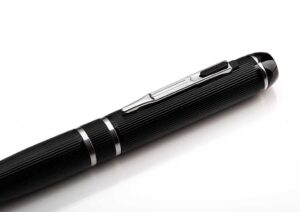 The micro camera camouflaged into a pen is a practical spy device that allows you to capture photographs, audio, and video recordings discreetly for a variety of purposes. The spy pen can create recordings even in dimly lit environments, under lighting conditions of 1 Lux. As a result, it can operate at night, too.
It's easily activated — you just need to press the button located on top of the pen. The lens is positioned on the pen pin, which allows you to place the device into the pocket of your shirt or jacket and record discreetly.
This pen has a very modern design. It's made of quality materials, and its primary writing function has been preserved too, so there will be no doubts regarding its use. The footage is stored in the pen's internal memory, and it can even be used as a USB memory.
Here are the features that the micro camera in a pen offers:
Ability to capture photos and audio/video recordings
Operational even in dimly lit environments (up to 1 Lux)
High resolution of the photo and video footage: 2560 x 1920 P and Full HD 1920 x 1080 P, HD 1280 x 720 P — optional
Wide recording angle of 90°
Integrated memory (up to 8 GB)
Powered by a rechargeable battery or a USB
USB port
Recordings played by connecting the micro camera in a pen to another device (a PC, laptop, tablet, etc.)
Price: 50 – 120 EUR
Spywatch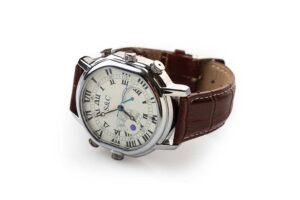 The spywatch tells much more than the time. Namely, the watches made by top brands (Citizen, Longines, or Omega) are equipped with microphones and miniature cameras, which makes them an ideal spy tool in a variety of situations, even at night.
You can choose whether you want to capture audio, video, or photo material simply by pressing a discreet button. The footage recorded by the camera is of top quality, and the state-of-the-art SMD microphone eliminates all types of noise, thus offering crystal-clear audio recordings.
These are the features our spywatch has:
Capturing photo, video, and audio footage
IR Night Vision feature for nighttime recordings (up to 1 Lux)
Ability to record in humid environments, due to the watches being waterproof
High resolution of photos and videos: 12 Mpix and Full HD 1920 x 1080 P
Wide recording angle of 90°
Footage stored on the internal memory (up to 8 GB)
Powered by a rechargeable battery (can be charged via a USB)
Recordings played by connecting the spywatch to another device (a PC, laptop, tablet, etc.)
Price: 60 – 130 EUR
Spy Camera in a Keychain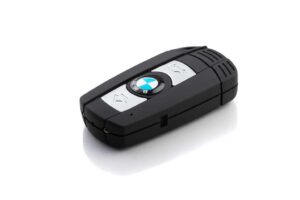 The spy camera camouflaged into a keychain is an ideal spy tool for recording different situations and events discreetly. It usually comes as an alarm keychain for a well-known car (BMW, Audi, VW, etc.). These devices can be placed on a table or in another suitable spot, which allows them to capture everything that is going on in their vicinity. The footage is then stored in the keychain's internal memory. It is operated via two buttons; namely, you can use them to control the device activation and choose the recording functions. Thanks to its motion sensor and night mode, the micro camera can start working on its own even when lighting conditions are poor.
Some of the features of the spy camera in a keychain include:
Ability to capture photos and audio/video recordings
Motion detection feature — automatic activation when a motion is detected within a three-meter range
IR Night Vision — the ability to work at night
High resolution of the recordings — Full HD ≤ 1920 x 1080 P
Wide recording angle of 90°
Internal memory — an SD card (up to 32 GB)
Recordings played by connecting the spy camera in a keychain to another device (a PC, laptop, tablet, etc.)
Powered by a rechargeable battery
Price: 45 – 100 EUR
Key Features to Consider When Choosing a Wearable Spy Camera
When selecting the perfect wearable spy camera, it's crucial to assess various key features that can significantly influence the device's overall performance, user experience, and ability to remain discreet. By carefully considering these features, you will be able to find a camera that meets your specific surveillance or recording needs while maintaining the desired level of concealment. Key features to examine include:
Camera resolution for image quality
Audio capabilities for capturing sound
Battery life to ensure continuous operation
Storage capacity for handling recorded footage
Connectivity and app support for remote access and control
Discreetness to maintain the camera's covert nature
Final Thoughts on Wearable Spy Cameras
Wearable spy cameras have come a long way since their inception and have gained significant attention from both the public and law enforcement agencies due to their unique features and versatility. As technology has continued to evolve, so has the role of these devices in society.
Despite some concerns, wearable spy cameras have become an important tool for individuals and organizations who want to capture important moments, document events, and protect themselves.
As an online shop specializing in legal spy products, we have over 20 years of experience in the industry, during which we have been striving to provide high-quality products to our customers. Our experience and expertise in the field have helped us establish ourselves as a trusted and reliable source of wearable spy cameras and other related gadgets. We have a long-standing commitment to delivering the best products and services to our customers, ensuring their satisfaction, and building long-term relationships. When you purchase a product from us, you can rest assured knowing that you are doing business with a reputable company with a proven track record of excellence.
Join thousands of satisfied customers — order your wearable spy camera from us now!