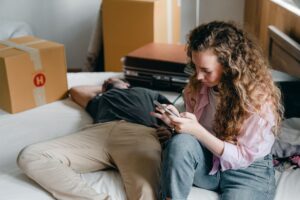 Partner tracking apps are probably among the most commonly searched terms online. Is it because an increasing number of people are cheating? Or is it something else? We will have to wait for the latest statistics to learn the answer to this question — but one thing is certain: every other person has been cheated on. Every third person has questioned their partner's fidelity, and every fifth one has tried to prove their doubts are justified.
The partner tracking app can be used on Android phones. However, before this innovation, people tried to find out if they were being cheated on in various ways. For instance, they used to go to mutual friends and relatives, go through personal belongings, follow their partners, or even hire detectives who would help them learn the truth.
So, tracking someone's behaviour, reactions, and location has always been around. The only difference is that now, we have much more sophisticated ways of performing these tasks. For example, you can install a tracking app on the phone of a person you want to keep an eye on.
This program is easy to install and use. The set-up takes only a couple of minutes, and the program will not be visible to the phone's user. The installation won't leave a trace; plus, the app itself doesn't take up too much space, and it doesn't interfere with the phone's functions at all.
This app can also be used for tracking your employees and their location, work, and loyalty. In most developed countries, it is completely acceptable for work phones to have such apps installed. The tracking app is also used by parents worried about their children being in trouble.
How Can You Use a Partner Tracking App?
If you've decided to prove your partner's loyalty this way, you have to be careful about who you are buying the program from. Buying cheap apps is very risky — not to mention getting their free versions! They can contain malware and viruses, thus damaging the phone's functions. We advise you to get them from verified sellers who have registered businesses and tech support.
Once this program has been installed on the target phone, you can use it to track everything via your own phone or the web platform. That means you can follow everything happening on the device live if it has been connected to the internet, or you can watch everything the program has recorded later.
If the target device isn't connected to the internet, there's no need to worry. You won't miss anything since everything is automatically recorded and stored on the panel. You can access it via your computer, phone, or laptop after typing in the unique password.
Verified sellers will always offer a trial version as well to allow you to familiarize yourself with the program and its interface, features, and user experience. Partner tracking apps are typically licensed for one or more months. After the license has expired, it can be renewed. Occasionally, you may need to update the app since it is constantly being upgraded and improved.
You can install the app on your partner's phone on your own, or you can contact the seller, who will explain the entire process step by step. You can even come to the office in person if that is more convenient for you. In any case, the most important thing is that the seller offers tech support at all times.
What Can You Expect From a Partner Tracking App?
By using the partner tracking app, you can find out absolutely everything you want to know. You can use your own phone to track what is happening on the target device in real-time. You can turn on the front and back cameras, go through the messages, and eavesdrop on conversations. Basically, this app will allow you to:
Record conversations
Check out the incoming and outgoing call logs
Read sent and received emails
Track Viber, WhatsApp, Facebook Messenger, Instagram DM, Skype, Snapchat, Hike Messenger, Hangout, Pinterest, etc.
Use Keylogger to track everything that has been typed on the phone
Read SMS and MMS messages
Pinpoint the precise GPS location and access the full location history
View all photos
Control all the installed apps
Access browser history
Turn the front and back camera on and off and watch everything happening near the phone in real-time
Listen to everything around the phone and record it
The partner tracking app can be extremely useful if the phone is lost or stolen. Also, you will be glad to hear that a single license can be used for different devices. Still, before purchasing this program, we advise you to check with your seller whether they provide this service.
Moral Dilemmas Regarding the Use of the Partner Tracking App
If you are suspicious about your partner's fidelity and you want to check whether they are faithful to you, how you end up doing it is completely irrelevant. You can either follow them or use the app. In fact, the latter seems much more informal, discrete, and thorough. Thanks to the app's ability to find out everything, no uncertainty will remain.
So, instead of interrogating your friends, relatives, and acquaintances about whether they have seen your partner, when, and with whom — which, let's face it, is potentially embarrassing — you can simply use the partner tracking app, which will provide more privacy and leave room for making appropriate decisions.
After all, not every cheating episode has to end in a break-up. Perhaps such an experience could lead you to become aware of some of your own shortcomings. In turn, that may help you strengthen your relationship without anyone knowing about it. You will get to choose whether you want to keep your privacy and hide your problems, which is impossible if you opt for the alternative approach. But most importantly, you will finally resolve some concerns that may have influenced your life negatively.
Constant doubting can be the cause of cardiovascular issues. Apart from health problems, it can also affect your mood or cause aggression and inappropriate behaviour. That is why you need to clear your doubts as quickly as possible — otherwise, you will only prolong the agony.
This app can be used for tracking children and business partners, as well. When it comes to children, it can help you prevent numerous undesirable outcomes. We all know that drugs, alcohol, and predators are everywhere we turn, especially online. In addition, this software can allow you to act on time and stop your employees from harming your company, thus protecting yourself from negative consequences.
If you need more information, feel free to contact us. We offer you a top-quality app for partner tracking, a free trial period, and 24/7 tech support. We can guarantee everything will be done with absolute discretion.