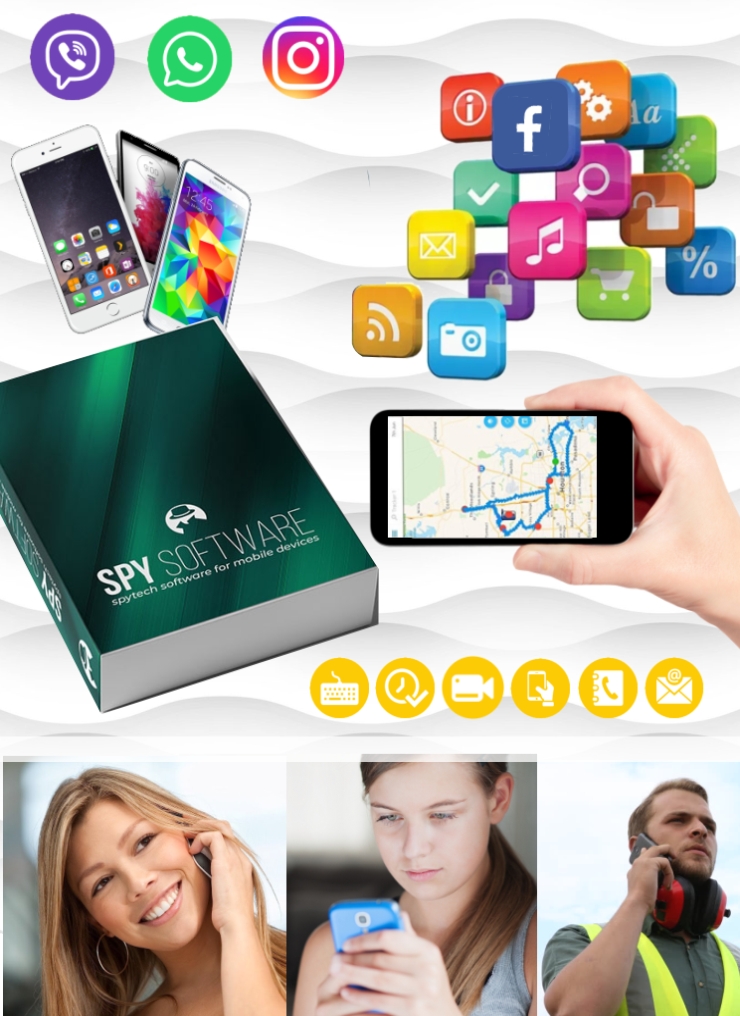 See for yourself all the options the SpyTech spy software provides. We offer you 48 hours long free trial without any commitment.
SpyTech spyware for tracking and eavesdropping phones of the latest generation is the easiest and safest way to find out on time where your child, partner, or employee is and what he or she is doing on their phone. By remotely tracking and controlling everything that's happening on their phone, you will eliminate suspicions and worries, prevent unwanted consequences on time and remain undetected.
The SpyTech program disappears from the phone's menu when it's installed. The user cannot see it, it does not affect the operation of the mobile phone at all and does not depend on which SIM card is being used.
Spying and tracking Viber, WhatsApp, Facebook Messenger, Instagram, SMS, calls … with the help of SpyTech software for tracking mobile phones it is very easy and accessible to everyone. It is enough that you have in your hands the phone you want to track (target phone) only for a few minutes. You can bring it to our premises or install our spyware tracking software on your own. We can do the installation for you in our office but also remotely, in case you are out of town or country. You need to have with you the phone on which the program is to be installed remotely and it cannot be locked with a code.
The latest original SpyTech spy software does not consume credit, it does not slow down the performance of the device and it allows tracking of all Android phone models.
To keep track of the activities on a mobile phone, you need to install the spyware for phone eavesdropping and to have an internet connection. On a special Web panel that only you have access to at any time, you can follow all the actions that are performed through the target phone that you are spying on.
How to use SpyTech spy software for tracking phone and its technical features
With the help of detailed textual instructions, SpyTech spy software can be quickly and easily installed on the mobile phone you want to track or bring the phone to our premises in order to perform the installation. After installation, all traces disappear from the menu, and you can safely spy on all the activities on the target phone.
The next step is to access your personal control panel with various options. All information spyware software records are available only to you and at any time, on a web portal, to which you can access only with a unique code. The only condition is that you have an internet connection.
This practically means that on your computer, tablet, or mobile phone, you can always and wherever you are, see where they are, what they are doing, what they say, with whom and what about they are texting, what is happening in the immediate environment of your child, your employee, your partner etc.
You will not miss anything if the person is in a place without the internet and Wi-Fi connection. Everything that's happening on the phone is automatically recorded and sent to your web panel as soon as the phone connects to an internet connection or Wi-Fi.
By installing the modern SpyTech Spy Software for tracking and eavesdropping a mobile phone, you have complete control and full surveillance of everything that is being done with the target phone:
It is automatically recording all the conversations and listing all outgoing and incoming calls;

Tracking Viber, WhatsApp, Facebook Messenger, Email, Instagram DM, Skype, Snapchat, Hike Messenger, Hangout, Pinterest
Keylogger – tracking everything that is typed on the phone, including all the codes
Record SMS and MMS messages
GPS locating the target phone with a history of the movement
Photos made by a target phone
Turn on and off all target phone applications
Browser history
Turning on and off the front and back camera of the target phone and watching live
Listening and recording the target phone environment
Help when theft or loss of the phone occurs
SpyTech spy software for tracking a mobile phone works based on a time limit that you can extend an unlimited number of times. There are no monthly costs and maintenance, you can use the once purchased software permanently within a given time frame. SpyTech mobile phone tracking software contains an original license of well-known brands and a permanent account, so if you change your phone, you get to continue the contract with another phone, with all the stored data for free. SpyTech software is constantly improving, new applications and updates are being added, of course without any additional fee.
The Internet is full of cheap and free copies of phone tracking software. Apart from not providing you with what you paid for, such programs can steal, abuse and delete your private information or completely destroy your phone. Therefore, you should always pay special attention to the selection of such software.
For what purposes can SpyTech Spy Software tracking the phone be used?
By installing SpyTech Spy Software to track Android phones, through the application and the code familiar only to you, you have complete control over Viber, WhatsApp, Facebook, Instagram, outgoing and incoming calls, SMS messages, and your child's photos at any time. Moreover, by turning on and off the front and back cameras, you can listen to and watch where and with whom your child is at any given moment.
If you suspect the fidelity of your emotional partner or your spouse, spyware monitoring software can give you the answers you are looking for. Save your marriage or relationship until it's too late. Install spy software to track your partner's mobile phone and keep a close watch on Viber, Facebook, calls, messages, image sharing … Full partner phone monitoring will confirm or dispel your suspicions, and you will have irrefutable evidence and you will, most importantly, preserve your dignity.
In practice, it has been shown that business success depends largely on productivity and on the expertise of the employees.
Do you always know for sure what your employees are exactly doing during the working hours? Do they chat and surf the Internet at your expense, do they give away confidential information and are they providing a high-quality service to your customers?
SpyTech spy software for tracking employees' phones will provide you with answers and irrefutable evidence. Take the right business move on time, punish the culprits and save yourself from unnecessary expenses and sleepless nights.
If you're still not sure whether the spy mobile phone tracking solution is the right solution to your problem, try it completely FREE. See for yourself all its possibilities. We give you 48h GRATIS trial period of the program, password, Web panel and all the necessary data.
Without any charges or costs, test a program to track a phone using all the options.