Trust is an essential component of any healthy relationship. It is the foundation upon which love, respect, and intimacy are built.
However, the increasing prevalence of infidelity is threatening this base. In fact, this has become a major problem in today's society, with many couples struggling to maintain trust and faithfulness in their relationships.
The issue of infidelity is a growing concern in modern relationships, with both men and women admitting to cheating.
According to a recent survey by Discreet Investigations, 70% of women and 54% of men have admitted to being unfaithful to their partners at some point in their lives. These statistics demonstrate the gravity of the problem of infidelity and the need for solutions that can help couples rebuild trust and faithfulness.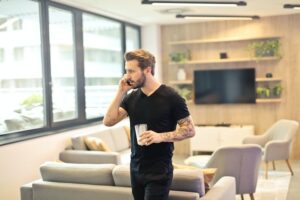 In addition, this and similar research confirms that 88% of respondents believe that technology has made it easier to cheat. On the other hand, the same technology can also be used to detect cheating unassisted, without the involvement of private detectives and polygraphs.
As a result of global digitization, evidence of infidelity is just a click away, and the biggest ally in uncovering an affair is the partner's mobile phone. It's enough to take a peek at the phone and prove whether the suspicion was justified or not.
The most effective solution is the use of a free cheating spouse app. This app can help couples monitor the activity of their partners and uncover any signs of adultery. It can provide evidence of infidelity, which can be useful in legal proceedings or as a means of confronting the unfaithful partner.
While the use of a free cheating spouse app can be effective in exposing infidelity, it is important to acknowledge that it should not be seen as a substitute for professional counseling or therapy.
Benefits of Using a Cheating Spouse App
A spy mobile phone app can provide a range of benefits to individuals worried about their partner's infidelity. From uncovering and confronting the issue to promoting faithfulness and honesty, the app can be a valuable tool in rebuilding trust and strengthening relationships.
Uncovering Infidelity
A cheating spouse app for Android can be an effective tool in uncovering infidelity and restoring trust in a relationship. By providing concrete evidence of an affair, the app can help couples confront the issue and make the appropriate decision about the future of the relationship.
Providing Evidence of Cheating for Legal Proceedings
In some situations, evidence of infidelity can be useful in legal proceedings, such as divorce or child custody cases. A cheating spouse app can provide the evidence needed to support a case, making it easier for the affected party to obtain a fair settlement. This can be especially important when financial support or child custody is at stake.
Preventing Infidelity by Acting as a Deterrent
The mere presence of a free Android app to detect a cheating spouse can act as a deterrent against infidelity. Knowing that their activity is being monitored can discourage a partner from engaging in inappropriate behavior. This can help prevent infidelity before it happens and promote faithfulness and honesty in a relationship.
Improving Communication and Honesty in a Relationship
Finally, the use of free apps for Android to catch a cheating spouse can help improve communication and honesty in a relationship. The app can also be used as a means of encouraging transparency, as partners can use it to share their location or communicate their plans for the day.
What You Need to Know About Free Cheating Spouse Apps
While the idea of a free cheating spouse app for Android may seem appealing, the reality is slightly different.
Namely, many companies offer free trial periods or demo versions with limited functionality. These unauthenticated options may seem like a good deal, but they often come with hidden costs and potential risks.
One major concern with downloading a free cheating spouse app is the danger it poses to your or the target device. Many of these apps contain viruses or malware that can harm phones and steal private data. Additionally, some apps require users to root or jailbreak their devices, which can compromise the security and stability of the operating system.
It is important to approach such offers with caution. Always research the app and the company behind it, and be aware of the potential risks and consequences.
The best phone monitoring application must have an original license, provide active customer support, and protect data privacy.
SpyTech spy software possesses all of these features and offers even more. Therefore, if you suspect your spouse of infidelity, using this spy app could help you uncover the truth.
The program supports all Android phone models if they are version 4.4 or newer.
How the SpyTech Spy App Works
The SpyTech phone tracking app operates on a license-based system that is leased for a specific period of time.
The spy app is installed on the phone that you want to monitor. Once the setup is finished, the app disappears from the menu, but it continues to work in the background, in the invisible mode.
Installation
It is easy and quick to install, without any special IT skills required. You can do it yourself with detailed instructions. Alternatively, our technical support team can set it up for you remotely or in person. The installation process takes around 15 minutes, during which you need to have the target phone with you. After that, you can monitor all your partner's activities on the targeted phone from any distance through the web panel.
Activation
Activate the necessary features, such as GPS tracking, text message and call monitoring, and social media monitoring.
Monitoring
The app runs in the background and records all relevant data, which can be accessed remotely from any device with an internet connection.
Control
This app also allows for remote control of the target device, enabling actions such as blocking access to certain apps or even activating the front or the back camera.
The SpyTech Spy App sends information to a personalized web panel that you can access with a unique email and password from any location. This means that you can monitor what your partner is doing even if they are in a different city or country.
Features of the Cheating Spy App for Android
The app can come with a range of features designed to help uncover infidelity and restore trust in a relationship.
GPS Tracking
One of the key features of a cheating spouse app for Android is GPS tracking. This allows the app to monitor the location of the spouse, ensuring that they are where they claim to be. The GPS tracking feature can be used to track the movements of the spouse in real-time or over a specified period. This can help uncover any discrepancies between their stated location and their actual whereabouts.
Text Message and Call Monitoring
Another useful feature is text message and call monitoring. This one allows the app to track all incoming and outgoing text messages and phone calls, providing insight into any suspicious activity, including excessive communication with a particular individual or any unusual behavior, such as receiving or making calls at odd hours.
Social Media Control
Social media monitoring is another important feature of the app. Thanks to it, you will be able to detect any unusual behavior on these platforms, such as flirtatious messages or pictures. The app can also monitor the spouse's social media activity, including posts, comments, and direct messages. This can provide insight into any type of inappropriate conduct that the spouse may be engaging in.
Live Panel
This feature turns the target phone into a perfect device for tracking and eavesdropping in real time. No matter where you are, you can turn the front or the back camera of the target phone on. This way, you can see where your partner is and who they are with.
Messaging Apps Monitoring
This is one of the most used features on the control panel. Thanks to it, you will be able to observe all the Viber, WhatsApp, and Messenger activities on the target phone. Go through entire chat logs sorted by date and time when the messages were received or sent. You will know when the person was texting someone, who they were texting, and what the content of the messages exchanged via these apps was. You will also be able to go through the incoming and outgoing call history with particular contacts.
Hidden Mode
Cheating spouse apps for Android come with a hidden mode feature. This allows the app to run invisibly on the spouse's phone, without their knowledge. This feature can be useful in those cases when the spouse is likely to become suspicious if they know that their phone is being monitored.
Get the Most Out of the SpyTech App With Technical Support and Free Trial
If you're interested in using SpyTech cheating spouse app for Android, we encourage you to sign up for our free trial period.
Not only will you have the opportunity to test the app's features without obligation to purchase, but you'll also receive technical support to ensure that you're getting the most out of the app.
At SpyTech, we believe that technology can be a powerful tool for improving relationships, but it's important to use it responsibly and with respect for the other person's privacy. So, give the SpyTech Spy App a try today and take the first step toward a stronger, more secure relationship.