Eavesdropping on somebody's vehicle is one of the fastest and most reliable ways of getting all the important info about them. You can do this by discreetly installing an eavesdropper in their car. This will enable you to eavesdrop on everything going on live or to listen to the recorded conversation later on.
According to the latest research, one of the consequences of modern life is the fact that we spend an increased amount of time in our cars. Statistics show that it's around 15–18 days a year (close to 8 hours a week). On average, men spend half an hour more daily behind the wheel than women.
You have to admit — many things can happen during those 30 minutes. People feel safe and relaxed in their cars, so they don't really hold back — they talk freely about the most sensitive subjects, both over their phones or with other passengers. By bugging their car, you can hear very important and confidential conversations.
You can probably recall at least one situation when you wanted to find out who your partner/business associate/employee was in their car with and what they were talking about — especially if you already had any reason to doubt them.
Car eavesdroppers will lead you to the truth by giving you a shortcut. Vehicle eavesdropping devices can be installed in cars, vans, trucks, buses, etc. Apart from eavesdropping, you can also use them to locate vehicles in case of theft.
There are two ways to eavesdrop on a car: by listening to the conversation live or by using audio recording features.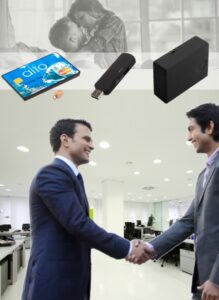 State-of-the-Art Car Eavesdroppers
Modern GSM car bugs come in small sizes and deliver excellent performance. As a result, they can blend into the car quite easily. It is practically impossible to spot them using your eyes alone.
No matter where you are located, you will be able to listen to the car owner casually chatting over the phone or with their passengers as clearly as if you were in the car yourself.
By eavesdropping on their car, you will get a chance to collect all the evidence about your partner's affair or your employee's and business associate's actions and intentions.
A well-known celebrity uncovered her partner's unfaithfulness by installing an eavesdropper in his car. We've all heard of this case, which has only demonstrated that car eavesdropping is often used to reveal emotional or marital partners' infidelity.
Most listening devices for cars have a limited range, which is inconvenient and useless when the vehicle is moving. Modern GSM eavesdroppers are the most practical spy devices for car eavesdropping, as they allow you to listen in on someone regardless of your location.
GSM vehicle eavesdroppers of an unlimited range function just like cell phones, and they will offer much more information than standard audio surveillance.
In order to be able to record a conversation held in somebody's car, you need to have access to the vehicle. You will need the car keys, as you will need to install the conversation recorder or any other listening device in the target vehicle.
Eavesdropping on Car Conversations Live
A GSM car eavesdropper comes in the shape of a miniature case in which an adapter, a SIM card slot, and two thin cables are located. One of them is connected to the car system, whereas the other is a microphone cable with a mic on one end.
The car eavesdropper can be hidden inside a car quickly and easily. With double-sided tape, you can attach it to any surface in only a couple of seconds. You won't need the help of an expert since anyone can install a GSM eavesdropper on their own, thanks to our guide.
It's best to conceal the car eavesdropping device behind the dashboard of the vehicle. That way, eavesdropping will be more efficient, and the eavesdropper can be connected to a constant power source, which will enable you to monitor the car non-stop.
In case you decide to mount it somewhere else (usually under the chassis), its power supply will come from a rechargeable battery with a high degree of work autonomy.
Spy bugs for car eavesdropping work like mobile phones and have an unlimited range. As a result, you can eavesdrop on any conversation no matter where you are located — as long as the vehicle has network coverage.
A SIM card is located inside the GSM bug. These devices support the cards of every mobile telephony worldwide, and you don't need to have any credit on them.
A car eavesdropper can be activated via a phone call or a text message sent to the said card number. Another way is to set up the voice activation mode — that way, the bug will activate on its own when it registers somebody's voice. This can also be controlled remotely, via SMS messages.
By calling the number of the SIM card inserted inside the eavesdropper, you will be able to listen in on the conversations in the car live.
The calls on this number will be charged like any other call, according to the price list of your mobile operator. Naturally, you can also use the minutes assigned to you through your postpaid package.
The microphone of the GSM is amplified, and the sound is perfectly clear thanks to the filters that eliminate all types of background noises, which are quite common when driving. You will be able to hear the quietest of conversations (even whispers) within a couple of meters.
The bug's GSM frequency is coded, so interference is not a concern.
The car eavesdropper works quietly, without any signalization, so there is no way for anyone to notice it.
These car-bugging devices can be installed inside any vehicle.
GSM Eavesdropper for Vehicle Eavesdropping and Locating
Apart from audio surveillance, a multifunctional GSM eavesdropper will also show you the location of the targeted vehicle. You should know that this location won't be as precise as the one offered by GPS locators. The precision will mostly depend on the number of signals that the base stations of the mobile network detect at a specific location. That means it will work much better in cities than in rural areas.
In case you need a device that will enable you to track the car precisely, you should take a look at our offer of professional GPS trackers.
Still, the eavesdropper can show you the approximate location of the car in those environments where GPS devices are ineffective — in underground garages, buildings with no GPS coverage, and places where the signal is deliberately disrupted. Plus, it's twice as small as the tracker, which makes it easier to conceal.
Conversation Recorders for Cars
Conversation recorders are an ideal solution when you want to capture what is being said inside the car and listen to it later.
You just need to install the audio recorder in the car, and it will capture every word. The conversations will be stored in its internal memory. By connecting the device to your laptop, phone, or computer, you will be able to download the audio material and listen to it.
One such device is the USB audio recorder. The greatest advantage of the mini conversation recorder camouflaged into a flash memory is the fact that you don't have to try to hide it. You can just put it anywhere in the car, and nobody will suspect that it is actually a sophisticated eavesdropper.
Another advantage of conversation recorders is that they don't require any additional effort from you — you just need to place them in the car and plug them into a USB port after some time to listen to every conversation they've picked up. The quality of the recordings is superb, so you won't miss out on anything. Plus, those parts that you find important can be played back multiple times. You will even be able to use them as evidence when necessary.
Bugging Your Partner's Car
Statistics show that jealous wives doubting their partners' fidelity are the ones who opt for tracking and eavesdropping cars most often.
By hiding an eavesdropper inside their husbands' or partners' cars, these women who suspect their partners are unfaithful get the opportunity to monitor and listen to all the conversations held in the vehicle from a safe distance, using only their phones.
That way, they can get reliable information that will help them verify or dismiss their doubts in no time.
Distrusting and cautious company owners are another type of amateur spies who opt for bugging associates' and employees' cars. By installing eavesdroppers inside their vehicles, they can perform non-stop audio surveillance and listen in on all their conversations. Spy bugs in employees' cars can cut costs significantly, prevent industrial espionage, and optimize all segments of your business.
Worried parents also tend to install GSM eavesdroppers in their children's cars, in order to keep their children safe and make their own parental role easier.
How to choose a hidden listening device for a car
When choosing a hidden listening device for your car, there are a few key factors to consider, including:
Battery life: Some devices have longer battery life than others, so be sure to choose a device that can last for several days or even weeks on a single charge.
Sound quality: The quality of the sound captured by the device can vary, so be sure to choose a device that has a clear, high-quality microphone.
Size and concealability: Some devices are larger and more difficult to conceal than others, so be sure to choose a device that can be easily hidden within your car.
Car Eavesdropper Price
The amount of money you will have to give in order to purchase an eavesdropper for your partner's, employee's, or child's car depends on the type of device you opt for.
If you want immediate results, we advise you to go for the GSM eavesdropper that allows you to eavesdrop on car conversations live.
The prices of car spy bugs vary, depending on their quality and technical features. Our extensive experience in selling spy equipment and working with people tells us you should always opt for original eavesdroppers that can be purchased legally. That way, nothing will be left to chance — you can rely on the device completely. Plus, you will get the manual in English, a guarantee, and, most importantly, expert support that will help you use your bug to its full potential.
We need to remind you that while hidden listening devices can be useful for certain purposes, they should also be used responsibly and in compliance with all applicable laws and regulations in your country.
The SpyTech offer includes original and proven state-of-the-art eavesdroppers that can be purchased legally in our store. They come at an affordable price, with a fiscal receipt, a guarantee, and useful tips. Naturally, discretion is guaranteed.
If you are not sure which eavesdropper to choose, our tech support will be at your service. Tell us about your problem, and we will offer the device that will help you solve it in no time.