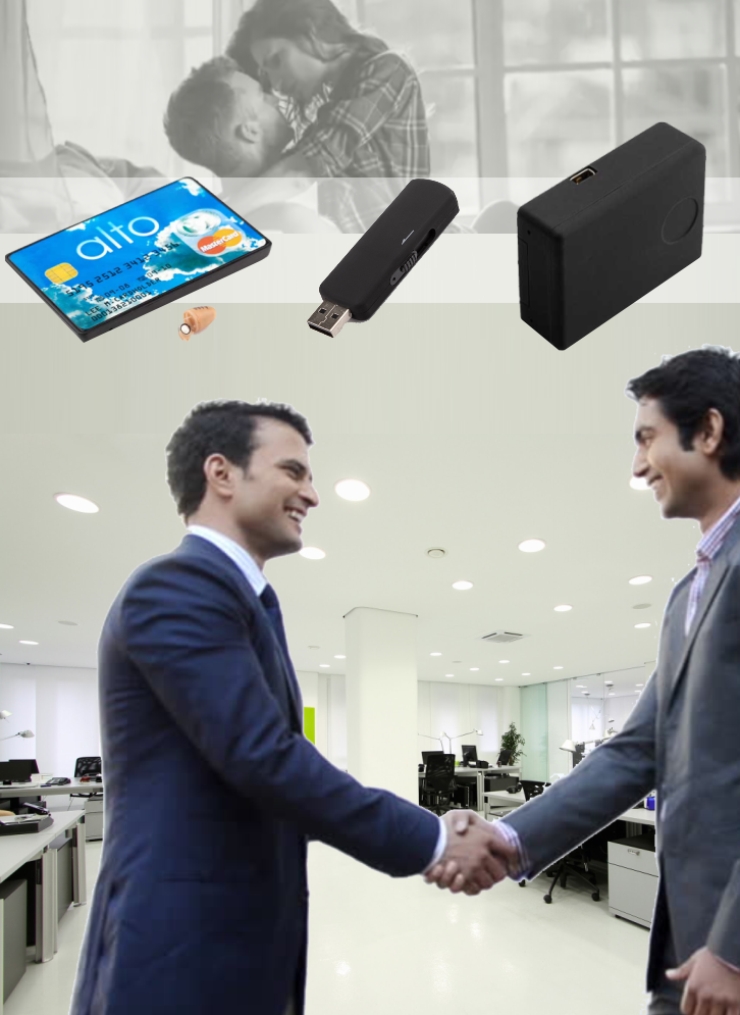 Please, admit that at least once in your life you thought that it would be great if you had an important arrangement, a business meeting or a long lecture recorded. Secret recording and eavesdropping would come to you as an excellent solution so many times, at school, at work, or in everyday life. We admit that it would.
The good news is that eavesdropping and discreet recording has never been easier and more accessible. Modern espionage equipment and miniature bugs allow you to secretly record a conversation from a few meters away and yet remain undiscovered.
The latest models of earphones and eavesdroppers are micro-dimensional and can be activated very easily and discreetly, using voice (Voice Activation) or motion (Motion Detection). As a result, you will get quality audio clips that you can then listen to and rewind on your computer or laptop.
Espionage bugs and eavesdroppers can be particularly useful for:
Business people and managers to secretly record business talks and meetings;

Student, as an effective secret recorder for recording lectures or discreet help in taking the exam;

Private detectives;

Investigators in secret operations;

Journalists;
Ideal spy equipment for eavesdropping
Thanks to the advanced technology according to which they are designed and created, spy bugs and eavesdroppers are a sophisticated and inconspicuous spyware tools, easy to use. Every part of this sophisticated eavesdropping equipment is carefully designed and technically perfected to give maximum results. It can be used by anyone and anywhere. These miniature devices give you the ability to capture even a whisper and cover up to 50 square meters.
Once you discover all the performances of the bugs and eavesdroppers, these devices will certainly become your discreet ally in business, school, secret operations, and research.
There are different models of multipurpose spy bugs and eavesdroppers so that everyone can find a device that will effectively solve their problem.
The latest generation wireless bugs are trusted assistants during the course of your studies and allow concealed communication with the interlocutor regardless of its distance. Original wireless bugs are equipped with a microfilter that guarantees safe operation without failure and the need for frequent servicing.
EDIC Mini tiny Solar – the smallest audio recorder in the world, a spy bug in your mouse for a computer or alarm clock, eavesdropper in an extension cable or a parabolic secret microphone, that will help you, among other things, find out what your kids, employees, competitors, marriage partners, or babysitter are doing in your absence.
Solve all suspicions with spy bugs and eavesdroppers
Suspicion can be a heavy burden until the very moment you find out the truth. Are you suspicious about your business associates, employees or family members? Unfortunately, you are not the only one. Likewise, if your suspicions prove to be founded and if you do not react in time, the damage can be huge.
Remove the suspicions and sleep peacefully. The latest generation spyware for eavesdropping will become your hidden and reliable ally in business and private life.
Install some of the most modern miniature spyware for eavesdropping in your home, office, or car, and listen to everything that is being said, from anywhere in the world. All you need is a SIM card of a mobile operator and a GSM network signal.
Modern spy bugs with voice activation are launched simply, by voice or by calling a card from any distance. If it registers a voice and even a whisper at any moment, the device will call the number you assigned to it. All you need to do is accept the call and just a few seconds later, you will get to listen to everything from the recorded room on your phone as if you were listening to it live. Of course, it is completely impossible for someone else to interact and to listen to it except for you. And you do not need to worry about your cell phone bill, because eavesdropping is practically free.
The high-quality Apple's rechargeable batteries can last up to a week, depending on the operating mode, so you do not have to worry whether the recording is going to be interrupted at an inconvenient moment.
Some of the spy bugs like GSM eavesdroppers can also serve as trusted locators.