Almost everyone you know is likely using WhatsApp – it's that popular!
WhatsApp is a highly trending mobile messenger app with a monthly user base of over 2.24 billion people worldwide. It ranks as the 8th most downloaded Android app globally on the Google Play Store.
An impressive feat was accomplished by WhatsApp as it processed over 1 billion messages in just one day. In terms of operating systems, the majority of WhatsApp users access the app on Android (73%), with iOS following behind at 22%.
The app's success can be attributed to its easy-to-use free instant messaging and multimedia-sharing features. It is an app developed to help users connect with their friends and family through texts, audio, and video calls.
Over time, WhatsApp has continued to improve its functionalities, security, and privacy, making it the most preferred messaging app by many.
It's no wonder that questions like "How to track WhatsApp chats on another phone?" or "How can I spy on WhatsApp messages?" are often heard, considering its widespread usage.
If you're also interested in how to peek into someone's WhatsApp messages, you're in the right place. In this article, you will discover the three best methods for keeping track of someone's activity on WhatsApp.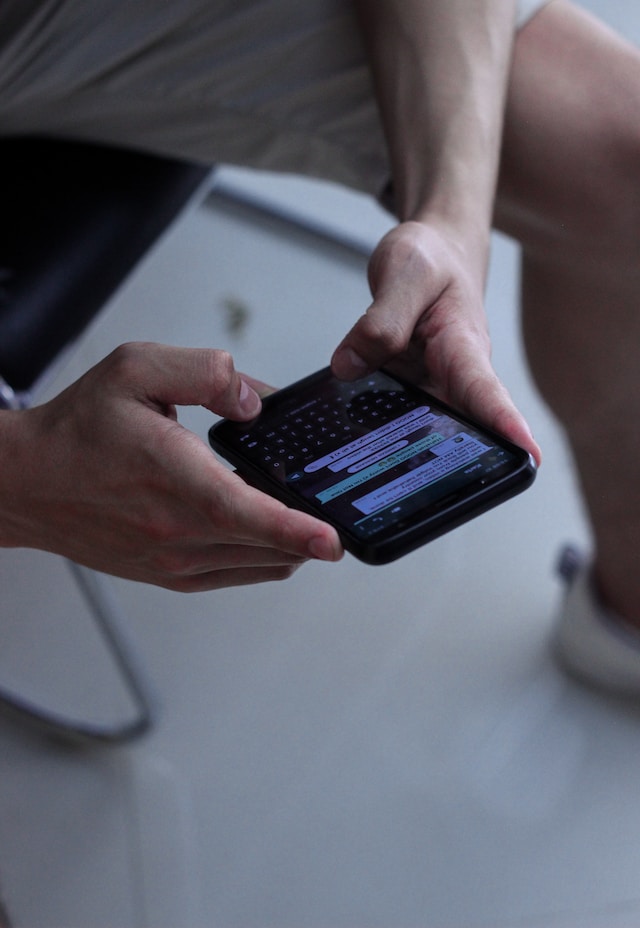 Why Learning How to Track WhatsApp Chats is Crucial in Digital Age
In today's digital age, learning how to spy on WhatsApp chats can be significant for ensuring personal and family safety.
There are several reasons and benefits to monitoring someone's WhatsApp activity without their knowledge. With the increasing dangers of the online world, it's essential to be aware of potential risks.
Parents can use WhatsApp monitoring to protect their children from potential online dangers. Children can be vulnerable to online predators or scams, and monitoring their WhatsApp chats can help parents detect any potential threats and protect their children from harm. It can also prevent them from spending excessive amounts of time chatting with their friends when they should be studying or sleeping.
Older family members who may not be as familiar with technology can be vulnerable to scams or technical difficulties. By monitoring their WhatsApp activity, you can quickly identify any issues and provide assistance if needed.
If there are suspicions of infidelity, tracking WhatsApp chats can help gather evidence and provide peace of mind.
WhatsApp tracking can also provide valuable insights into employee activity for businesses. By monitoring work-related WhatsApp chats, employers can ensure employees are following company policies and not engaging in any illicit activities.
It's important to remember that monitoring someone's activity without their knowledge should only be done in ethical and legal situations.
Method One: Connect Another Device to Your Phone
You can link up to four devices to your phone using WhatsApp's "Linked devices" feature, allowing you to access the messaging app on any of those devices.
To connect to another device, simply follow these steps:
The first step is to open the WhatsApp application on the device you want to connect and then tap on the "More" button.
Select the option "Link a device" and you will be presented with a QR code that will appear on your screen.
To link another device to your WhatsApp account, you need to open the WhatsApp app on your primary phone, tap on the three-dot menu, and select "Linked devices".
Press the button labeled "Link a device" to scan the QR code displayed on the other screen.
After successfully linking your device to your WhatsApp account, you will be able to use the same WhatsApp account on another device and view messages. This means that you can access WhatsApp messages from multiple devices at the same time, without needing to transfer any data between them.
NOTE: It is important to keep in mind that if your phone remains inactive for more than 14 days, you will be automatically logged out from the linked devices.
Method Two: Restore Someone's WhatsApp Backup
You can access WhatsApp messages backup depending on app settings.
You can use this backup to restore messages to another device like a PC or a mobile device. To ensure that the account has a backup, check the cloud and local backup options in account settings. To confirm that cloud backup is enabled, navigate to WhatsApp > Settings > Chats > Chat Backup.
After confirming the backup, you can install WhatsApp on another device with the phone number linked to the account whose messages you want to monitor. The messages will be automatically restored from the cloud backup.
In case there is no cloud backup, and you are using an Android phone, you can transfer the local backup to the new device. By doing so, WhatsApp can restore the messages from the local backup automatically.
A disadvantage of this method is that the process can take a long time.
NOTE: It is important to know that this method can only be successful if the other device is offline; otherwise, it may override the backup data.
Method Three: Read Someone's WhatsApp Chats using WhatsApp Monitoring App
The most effective way to track someone's WhatsApp activity continuously is by using a WhatsApp monitoring app.
These spy apps are designed to track all WhatsApp activity on a device, including incoming and outgoing messages, call logs, and media files.
To use a WhatsApp monitoring app, you'll need to install the app on the target device. After installation, the app will run in the background and monitor all WhatsApp activity. You can then log in to your monitoring account from another phone or computer to access the WhatsApp data.
The biggest advantage of this method is that physical access to the target phone is not required for monitoring someone's WhatsApp. After installation, tracking is done remotely from any location and device. Everything the person being monitored does on the app is visible through a personalized web panel accessed by a unique email and password.
The Most Reliable App for Secretly Tracking WhatsApp Activity
A simple search reveals that there are many apps available for monitoring WhatsApp activity. However, choosing the best solution is not always easy, especially considering that some of them may be potentially dangerous and hide malicious programs and viruses that can damage the device or steal personal data.
A reliable app is characterized by a well-known manufacturer and distributor, available technical support, and data encryption to ensure user safety and security.
The SpyTech spy app is one of the most trustworthy apps for secretly monitoring WhatsApp activity.
With its advanced monitoring features, it allows you to remotely track someone's WhatsApp messages, calls, media files, and even location in real time.
The app is easy to install on the target device, and once it is set up, it operates in stealth mode, making it undetectable to the device owner.
How SpyTech Software Stacks Up Against Other WhatsApp Tracking Solutions
One of the main benefits of using the SpyTech app for WhatsApp monitoring is that it is a comprehensive solution that covers all aspects of WhatsApp activity. You can view not only the messages sent and received but also the details of the contacts, including their names, numbers, and profile pictures. Additionally, the app lets you access all multimedia files, including photos, videos, and audio recordings.
Another significant advantage of the SpyTech app is its user-friendly interface which makes it easy for even novice users to navigate and use all the features. The app's dashboard provides real-time updates on all WhatsApp activity, making it easy to monitor the target device's WhatsApp usage remotely.
Additionally, the app comes with advanced security features, ensuring that all data transmitted through the app is encrypted and secure.
We also provide dedicated customer support to assist users with any questions or issues they may encounter. Other tracking solutions may not offer the same level of support, leaving users to troubleshoot problems on their own.
Finally, why stop monitoring only WhatsApp activity when the SpyTech app allows you to have complete access to everything happening on the target phone as if you were holding it in your own hands? You can even remotely control some of its features.
How to Install and Use a WhatsApp Spy App on Android
The app is compatible with all Android versions and can be easily installed on the target phone.
Here are the steps to follow:
Sign up and create an account with the SpyTech spy app. Choose a subscription plan that suits your needs and budget.
Download the SpyTech spy app to the target Android phone.
Install the app on the target phone by following the instructions.
After installation, open the app and activate it using the activation key provided in your account.
Grant all necessary permissions for the app to function properly, including access to WhatsApp messages.
It is crucial to erase all traces of installation from the target phone.
Once the app is set up, you can access the target phone's WhatsApp messages and other activities from your account.
It's worth noting that for the app to function properly, you need physical access to the target phone for a few minutes during the installation process.
Also, make sure that the target phone has a stable internet connection and sufficient storage space for the app to work effectively. With these things in mind, the SpyTech spy app can be a powerful tool for tracking WhatsApp chats on Android devices.
You can perform the installation on your own with our instructions, without any special IT knowledge. Alternatively, someone from the SpyTech team can perform the installation remotely, or you can bring or send the target phone to our premises.
The program operates in stealth mode, does not affect or disrupt the device's performance, and does not consume additional battery.
NOTE: The target phone must be unlocked in order to install the spy program.
Try it Out for Yourself: Sign Up for our 48h Free Trial
Are you curious about SpyTech's WhatsApp tracking app capabilities?
Well, now is your chance to experience it firsthand! Sign up for our free trial and get full access to all of the features of our app for 48 hours.
With our program, you'll be able to monitor all WhatsApp activity on your target device, including messages, calls, and media files. If you have any trouble installing or using the app, our technical support team is here to help you every step of the way.
Don't miss out on this exclusive opportunity to see the SpyTech spy app in action. Sign up now and start tracking WhatsApp chats like a pro.