We might want to know where someone is for a number of reasons.
If you are a parent, you probably find yourself wondering where your child is all the time. Are they at school, at practice, or at a friend's house?
Is your friend or elderly relative not answering your calls? Is your partner acting suspiciously, staying at work late, or going on business trips often? Are you not sure how your employees are working in the field?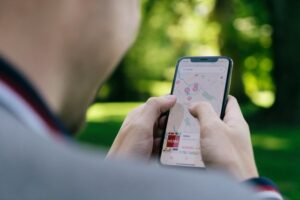 The good news is that today, thanks to smartphones, it's easier than ever to find out where somebody is and monitor them.
Mobile devices are an integral part of our private and business lives. We have them by our side even when we are sleeping. Through them, we can learn many important details about their users, such as their precise location.
By tracking their phone, we can find out a person's real-time location and their GPS history remotely. We can even monitor their movement, thanks to base stations, satellites, etc.
The ability to track a phone's location can be especially useful if it is lost or stolen.
How Do Phones Know Our Location?
It is widely known that modern mobile devices are reliable locators.
Some users find this terrifying, as they believe it violates their privacy and encourages conspiracy theories. Others, however, consider it beneficial.
For instance, if we get lost, our friends and family can track us down easily by locating our phones. We also have great chances of finding a phone that has been stolen or lost, thanks to this option.
The three main methods by which phones can locate us and share our coordinates are the internet connection, data connection, and GPS.
GPS (Global Positioning System) is considered the most prevalent and precise location tracking system. Thanks to a satellite network it relies on, it can determine the exact location of a device by using longitude, latitude, and altitude.
All modern mobile phones have integrated GPS chips, which, when active, function as receivers. When it connects to a satellite, a device gets information about the exact coordinates of an object via radio frequencies, thus becoming a precise locator.
This smart device feature is known as Location Services, and it is available for all Androids and iPhones.
If you want to find out somebody else's location or you wish to share your own, these services need to be enabled.
Is GPS Tracking 100% Accurate?
GPS satellites send very precise information to mobile devices. What we receive is determined by a number of circumstances.
Namely, the location accuracy is influenced by the phone quality and performance, mapping program accuracy, atmosphere conditions, and signal jammers. The device must be able to receive signals from four satellites at least, as the location precision increases with the number of "visible" satellites.
Research has shown that modern phones are capable of tracking their location within 5 meters in the open field.
In urban areas, location precision is lower since tall buildings, bridges, and trees tend to disrupt the signal, thus affecting the process. That is why our device sometimes shows the wrong address.
The newer the phone, the more accurate its precision, since device manufacturers constantly upgrade their processors — as a result, they could soon tell the location with an accuracy of a few centimeters. In order to be as precise as possible, smartphones rely on the AGPS (Assisted Global Positioning System), which uses additional data to determine the phone's geolocation. This data is received when the phone connects to the nearby base stations.
A smartphone's location can be remotely determined using two methods:
Tracking the phone's movement through the locators integrated inside it;
Installing a tracking spy software.
Tracking Someone's Location via Phone Number
The most reliable way of finding out where somebody is located is by using free trackers that have been installed in the phone by the manufacturer.
Their primary role is to help when the phone has been stolen or lost. However, they can also enable you to locate people quickly. These features are used by various tracking applications as well.
It's worth noting that integrated phone trackers work only when the device is connected to the WiFi or cellular network.
Locating iPhones via Find My iPhone
All iPhones have the Find My iPhone app installed on their system.
Here's how you can activate it:
Open the browser on any device and visit www.icloud.com, or use the Find My iPhone app if it's available in the menu.
Log in to iCloud by using your ID and password, choose Find My, then select Find My iPhone, and activate it.
Finally, pick the device you want to locate.
Now, you can track the phone's location by using www.icloud.com or by logging in on any Apple device.
Tracking the Location of an Android by Using Find My Device
Find My Device is a free app that relies on your Google account and your phone's GPS. It enables you to track all Androids (apart from Samsung devices) remotely, as long as they have OS 4.0.
You need to download it from Google Play Store first.
Go to Google Play Store and search for the Find My Device app.
Click on the first item in the list of results and install it.
Log in via the Google account that you want to use when locating the phone.
Enable the location services, and keep in mind that your phone needs to be connected to the internet for you to track it.
Now, you can not only track the phone's location but also lock it remotely and delete data in case it's stolen.
This app must be active on the target device in order to track it. The activation process is rather straightforward — go to Settings, choose Security, and turn on Find My Device.
Locating a Samsung Device via Find My Mobile
Samsung's Find My Mobile is a free service that you can access via your Samsung account. It enables you to locate your phone remotely, create backups, and delete phone data. This app uses Google's location info and the data from the WiFi network to pinpoint the device more accurately.
Open Settings, and then tap Security.
Search for Find My Mobile and activate it by creating an account or logging in to the one you already have.
There are many tools that allow you to control a Samsung device remotely. One of them is Show Last Location.
By using this app, you will see a list of all the devices that this service has been activated on, the location of a device on the map, and its current status.
Tracking a Phone's Location via Google Maps
The most popular app that allows you to find someone's location based on their phone number is Google Maps. To track someone using their number, you need to be a registered Google user.
If you are, the device locating procedure is rather simple.
Open Google Maps on the device and log in to your Google account.
Pick the contact number you want to locate.
You will receive the information about the address in which the person is located.
Localize — Website Used for Location Tracking via a Phone Number
One of the most reliable ways of tracking the location of somebody's phone by using their number is through the Localize app.
You simply need to enter the number of the person you want to track, and the site will receive the information about the phone's location. Then, it will send the link to the targeted number via an anonymous SMS. Once the person who has received the message taps on the link, they will give their permission, and the phone location tracking can begin.
By using Localize, you can track multiple phone numbers simultaneously. We should mention, though, that this app is not free.
All the methods that we've described so far require the target phone user's access permission. Google accounts keep track of the activity history (activity timeline, that is), which allows the users to monitor all phone activities — including who has been using the device: from their location to their app usage.
Therefore, one of the shortcomings of these services lies in the fact that the person you are tracking can easily find out which device, phone, or computer someone has used to log in to the Google account, thus discovering what you've been up to.
How Can I Find Out Where Somebody Is Without Letting Them Know?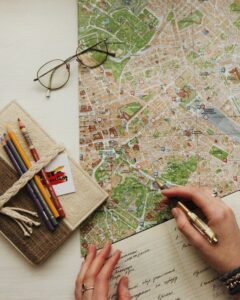 Sometimes, we need to find out where somebody is without letting them know in the process. That's what phone tracking apps are for.
You will find numerous versions of spy software online that allow you to track the location of a mobile phone. However, before you install any of them and give them access to important data, you need to do your research and check how safe they are. Many of them come with viruses and malware, which could cause a lot of damage to the device owner.
SpyTech spy software used for phone tracking is a safe and reliable program that will let you know where somebody is, while also offering the location history of the person you are monitoring.
If you want to find out someone's whereabouts by using this app, you need to install it on their phone first. This process takes around 15 minutes. Once installed, the app disappears from the menu, and you will gain insight into all the locations that the user has visited. The location history is updated constantly and sent to your web panel, which you can access by using your unique email and password, regardless of where you are.
That's not all, though!
By using the SpyTech app, you can open the front and back cameras remotely. That way, you can monitor where the phone user is and who they are with in real time.
You can find out about other features of this program by using the free trial version for 48 hours, without the obligation to buy after this period is over. This app has helped a large number of users find answers to some important questions and solve problems in both their personal and professional lives.