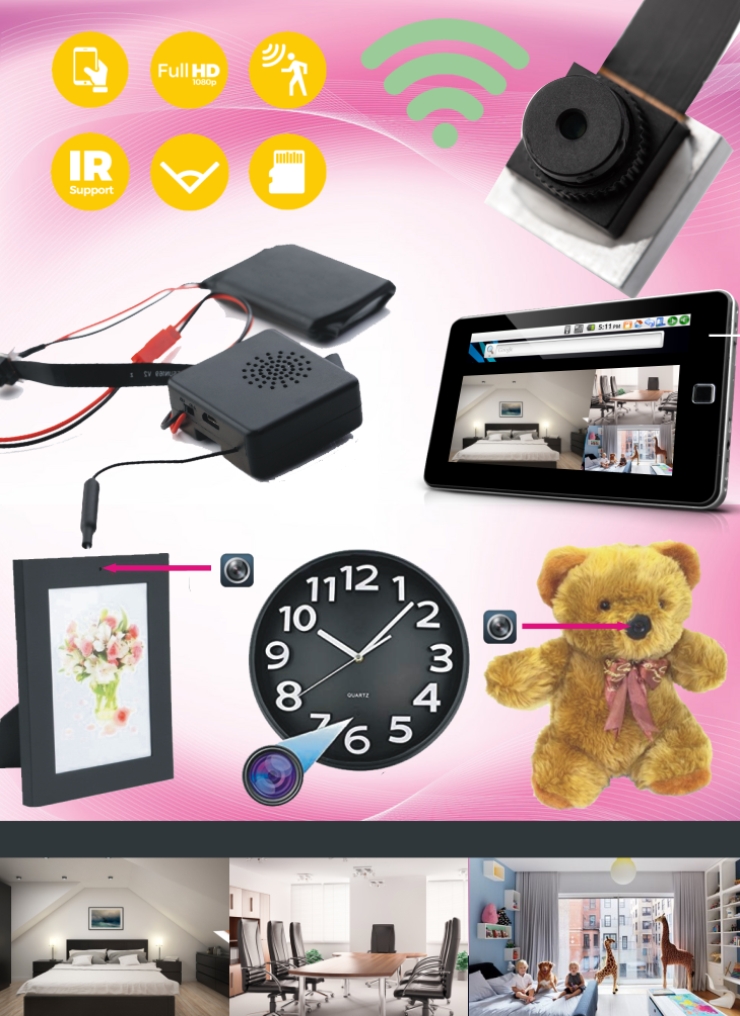 From the very moment it appeared on the market, the ultra-thin spy built-in camera occupied one of the leading positions among the sophisticated spyware products. This was primarily due to its exceptional technical features and to its miniature size, thanks to which it can be installed or hidden anywhere.
This ultra-slim built-in spy camera is a product of Japanese technology, and this sole fact tells a lot about its superior precision, safety, and functionality. When placed in a convenient place in a supervised room, this camera records almost every detail of the room as it covers a wide viewing angle of 120 °.
With this built-in camera, you can make audio and/or video recordings as well as high-resolution photos. If it serves for audio monitoring, it ensures the highest sound quality without shrinkage and background noise. Full HD resolution gives the highest quality picture on which every detail can be detected.
The ultra-slim built-in spy camera is designed primarily for use in extremely demanding places, or places where a good camouflage is a condition for a secret operation. These are the places that cannot always be easily accessed after installing a spy camera. That's why this camera provides real-time viewing and it is recording only when something is happening in a controlled space thanks to the motion detection function.
How to use an ultra-thin spy built-in camera and its technical features?
Before installing the built-in camera, you should first insert the micro SD card into the slot provided for that purpose. The device supports up to 32 GB of memory. Then place it in a suitable place in the space or camouflage it within an object. Its dimensions are miniature. With its 5 mm of diameter and 15 mm of length, it can be unnoticeably hidden in various places.
When the camera is set up and activated, the user can access it via the internet connection or select the option to store the recorded material on the memory card. Live viewing is sometimes critical in covert operations, and this camera provides the ultimate in image and sound quality for real-time monitoring. Also, the camera can be set to record the material on the user's mobile phone.
The camera has an additional motion detection function, which means that it records only when it registers a certain event in the monitoring area. Its sensor detects a movement up to six meters away. This saves not only the memory space on the card but also the time it takes to view the images.
When the recorded material is stored on a memory card, it is necessary to connect the device to a computer, a laptop, a DVR or to any other compatible device in order to view the images. The camera also has the state-of-the-art optics for night shooting, which provides the highest quality video even in full darkness.
In which situations can an ultra-thin built-in spy camera be used?
Built-in ultra-slim camera can be used in the most demanding secret operations, as well as in any other situation when it is necessary to provide quality surveillance of housing or workspace. It can also be successfully used as an endoscope or a recording camera in inaccessible places.
The built-in spy camera is used by top professionals and by ordinary citizens. This camera is a powerful weapon for all types of professional espionage. It is used for the supervision of offices, conference rooms, warehouses, production halls, sales facilities, … Since this camera is almost impossible to detect, employers can use it to supervise employees and discover various information of great importance for their business.
In a residential area, this camera is particularly practical for its small dimensions and can be hidden among many objects for everyday use. You can use it to control children's rooms if you want to check what your children are doing while you are away or how the babysitter performs his or her duties.
As it provides real-time viewing, you can access this camera at any time and have an accurate insight into everything that is happening in a controlled area. Namely, this camera has the ability to directly connect to external multimedia (DVR, PC laptop …), and the ability to connect to the Wireless Transmitter, which gives you the ability to monitor from a distance.
Call us and get more information about the products from our offer that can help you solve your problem. We will gladly provide you with our expert assistance, advice, and support.