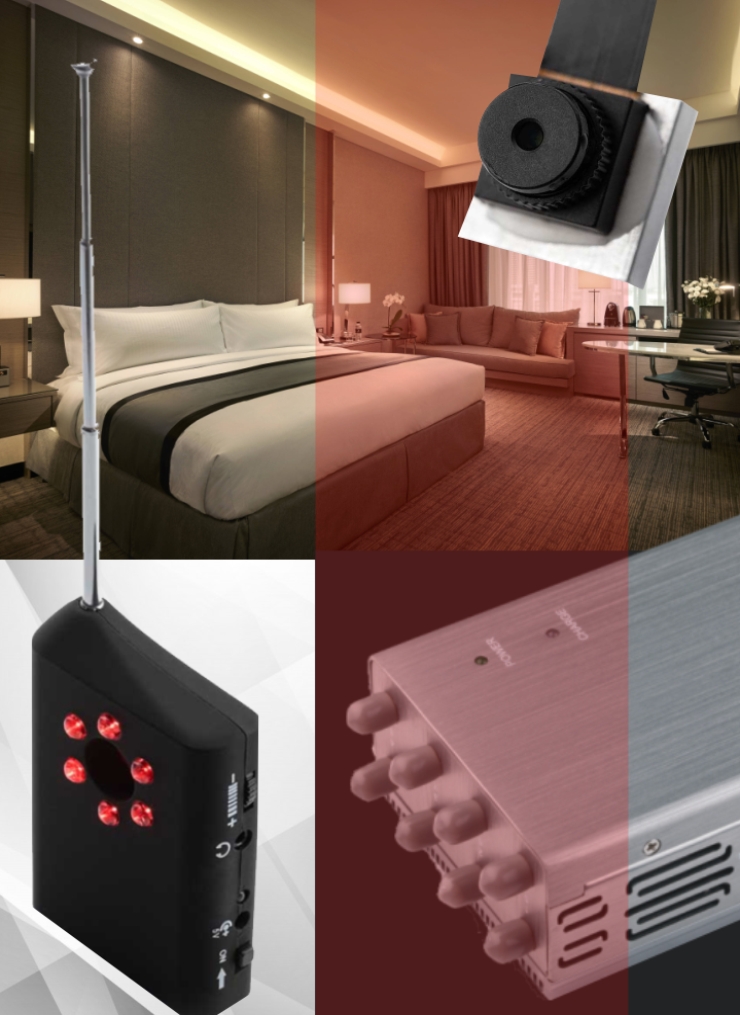 Modern spying equipment is being developed and improved at lightning speed. Different devices and software for secret surveillance and spying of persons and property appear on a daily basis. Spyware is available to anyone, without any need for special permissions and special terms of purchase.
It has never been easier to install a device or eavesdropping software and to discreetly record and track an object. Tracking and eavesdropping on a mobile phone, using bugs on the exams, GPS tracking sites, intercepting Bluetooth and Wi-Fi signals, intercepting certain rooms and cars – no one is to be spared.
Anyone can become a spying target. In practice, these are usually influential and business people in important positions, public figures, but also business, marital and emotional partners.
Luckily, equipment for detecting and interfering with spyware is being developed along with spyware.
In order to defeat the spies, you first need to know the tools that are being used for covered tracking and eavesdropping. And then, with the help of modern interceptors and detectors of spyware, you can effectively and permanently ruin their plans.
Protect your security and privacy
Spyware exists since a long time ago, and recently, with the development of new technologies, it is experiencing a true expansion. Confidential data that comes out through spying and it can be misused in various ways, and even for committing criminal acts of blackmail, extortion, and abduction.
Therefore, it is very important to provide and protect information about where you are traveling, staying, and what you are doing, and thus prevent it to be used against you. This is important in private life, but especially in business. Spying devices are used to secretly listen to and monitored business partners, associates, competitors … In this way, they can discover and appropriate your new business ideas, business plans, inventions and strategies in which you put a lot of effort, time and money. Damage can be huge, and it may even jeopardize your business.
Spyware detectors and sprayers are the right way to protect your business and privacy.
How do detectors and spy equipment interceptors work?
The most effective way to protect yourself, your family, and your business from spying are to remove and block all spyware from the space you want to protect.
The first step is finding those devices, which is what sophisticated professional detectors of spyware are used for. Detectors for finding spyware are devices that accurately and reliably detect and locate all types of spyware and cameras in your home, office, store, car, or mobile phone, no matter how well hidden they are.
In order to spy on some space or a face, the information spyware detects must come to the person who is spying. This is accomplished in two ways – with the help of wires or wireless, which is much more common today. This is also how both manual and table spy equipment interceptors i.e. jammers work. They obstruct or disable the transmission of the data between spyware.
Bugs used on exams, eavesdroppers of mobile phones, GPS tracking locators, Bluetooth and Wi-Fi signals, eavesdropping devices, and recording of rooms are disturbed in a similar way. Spammers of the spy equipment – jammers contain a powerful transmitter that emits electromagnetic waves at the frequency of the spy device receiver. Instead of the information about where you are, and what you do and talk about, people who spy on you will get a bruise, noise, or very unpleasant roar.
These interfering devices successfully interrupt and block: wireless frequencies of mobile telephony and mobile internet, wireless internet and Bluetooth, GPS navigation and locators, navigation on mobile phones, wireless cameras, and anti-theft systems.
The jammers contain antennas and each module with an antenna can be used as a separate signal jammer, and you can also configure the signal jammer as desired. If you need to interfere with a particular frequency or with more of them, you can create a personal jammer according to your needs.
Jammers are an ideal tool for teachers and professors which can efficiently and reliably prevent cheating during exams. Also, company owners, bosses, and managers with the detector can block cell phone signals during work, thus increasing the safety and productivity of workers in production and all other work positions.
The WiFi camera detector is the latest generation device that in less than 10 seconds accurately and infallibly detects the frequencies of all wireless cameras in the search area. This detector is the choice of many well-known detective and security agencies, which additionally confirms its quality and functionality. In addition to wireless cameras, this sophisticated device detects other eavesdroppers in your home, and can it also serve as a secret recorder, becoming thus a perfect spyware tool.
Take the first step towards safety NOW
If you suspect someone is spying on you, do not wait, but react immediately and protect your safety, privacy, or firm. Genuine, reliable, and professional devices for detecting and interfering with spyware are the best guardians of your security and the safety of your property.
Do not take risks with cheaper and low-quality copies of detectors and jamming devices that can be found on the Internet. Most often, they do not have any similar options to originals, they are not reliable, and when you find this out yourself, it will already be too late.
The price of the detector and jamming of the eavesdropping equipment depends on the model and the characteristics. What we guarantee is that this price is certainly much lower than the price of the consequences of secret recording and eavesdropping.
Call us or visit our business premises. With full discretion, a professional, and friendly we will advise you to choose an appropriate device for detecting spyware, which will quickly and effectively dispel your doubts.