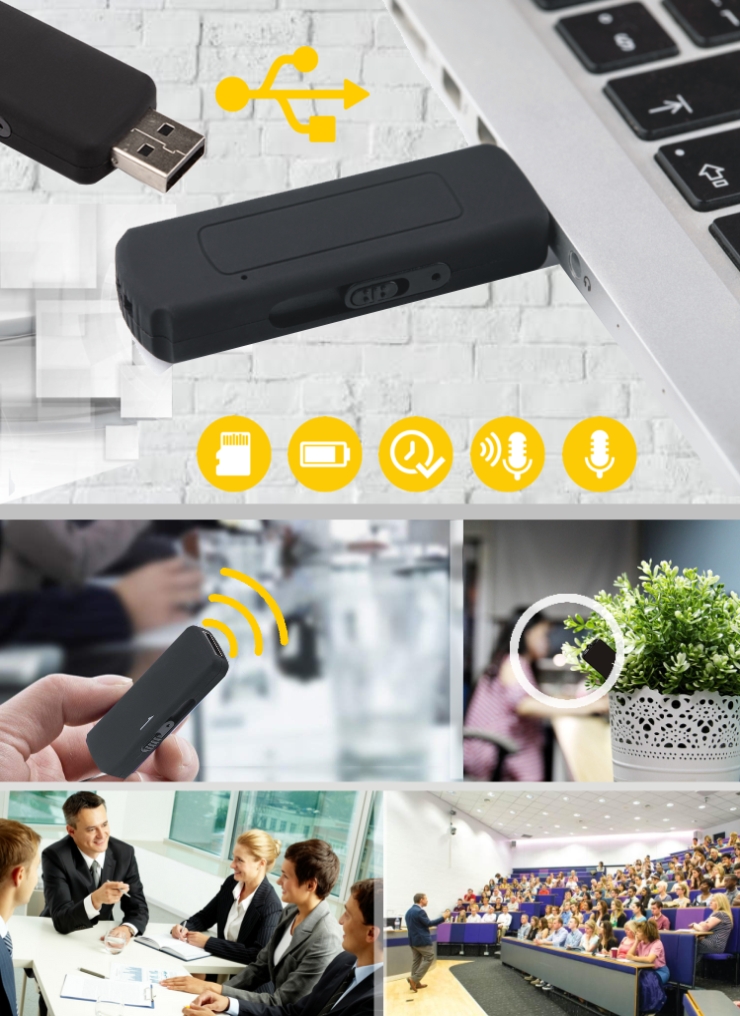 The USB recorder is one of the most functional devices in the spyware range that serves for the secret recording of conversations. It looks like a classic USB storage media that makes it perfectly camouflaged. When used, it can even be placed directly on the table or in some other visible place, without anyone suspecting its actual purpose. Especially because this device also has the function of USB flash memory so that you can use to save different files and thus covert recording.
Thanks to its high-quality microphone and sensitivity, it is possible to record a whisper a few meters away. Inside the unit, there is an integrated special noise reduction and background noise neutralization filter so that the sound is crystal clear during playback.
The device enables constant recording and has a voice activation option. This means that you can leave it in the area you want to control, and it will turn on and start recording only when it detects a voice or sound. With it, you can record up to 150 hours of audio material that is stored on a memory card size of 4 to 8 GB depending on the model.
Another important advantage of this miniature audio recorder is the great battery life of Apple's battery that lasts up to 20 hours of continuous shooting. Also, the preview of the material is enhanced thanks to the accelerated and slow-motion playback capability.
How to use a USB Recorder and its features?
USB Recorder is sophisticated, inexpensive and easy to use. On the device itself, there is a small switch with which the recording is started and stopped- The recording is then automatically stored on the internal memory of the device. The USB recorder has an integrated rechargeable battery that is charged by removing the cover from the device and by plugging it using the USB into the port of any computer or laptop.
When the user wants to listen to the recorded material, the device also needs to be connected to the USB port and then transfer the recorded material to a PC, a laptop, or other compatible devices. The USB recorder supports all operating systems.
All recordings have the correct date and time of recording saved, which is very significant when a large base of recorded material is stored. You can rewind videos, quickly skip irrelevant parts, or slowly playback, and examine the essential segments of a recorded conversation thoroughly.
The USB mini recorder is the perfect spy equipment for anyone who needs to record the conversations in an unnoticeable way. It is very easy to use and can be used by everyone, and it can be of particular benefit to business people, journalists, students, pupils, detectives, and investigators on secret operations.
In which situations can a USB recorder be used?
Business people can use a USB recorder for secret recording of meetings, arrangements, and negotiations. It is also practical and business people often use it to capture notes. This allows them to slowly and conclusively listen to the recordings afterward and eventually identify any missed or other important information.
This device is of great benefit to journalists who can use it both as a USB flash memory and as a recorder of conversations. It is especially practical in situations where it is necessary to take a statement and the interlocutor does not want to be recorded. This avoids the possibility that relevant information is missed or misinterpreted.
The USB recorder is popular among students and pupils because it can be used to record lectures, lessons, exams, and other activities, especially in situations where it is not publicly permitted. The device can be freely held on the desk or in another visible place because it does not indicate that it is a secret audio recorder.
Detectives and investigative agencies also frequently use this device because they can use it in many situations thanks to its common look. The quality of the recording, easy playback, and large memory space make this listening device a perfect detective tool.
USB Recorder is usually available in several colors and models. Call us and choose a device from a range of spyware that meets your needs and requirements. We are at your disposal for any additional questions and information.