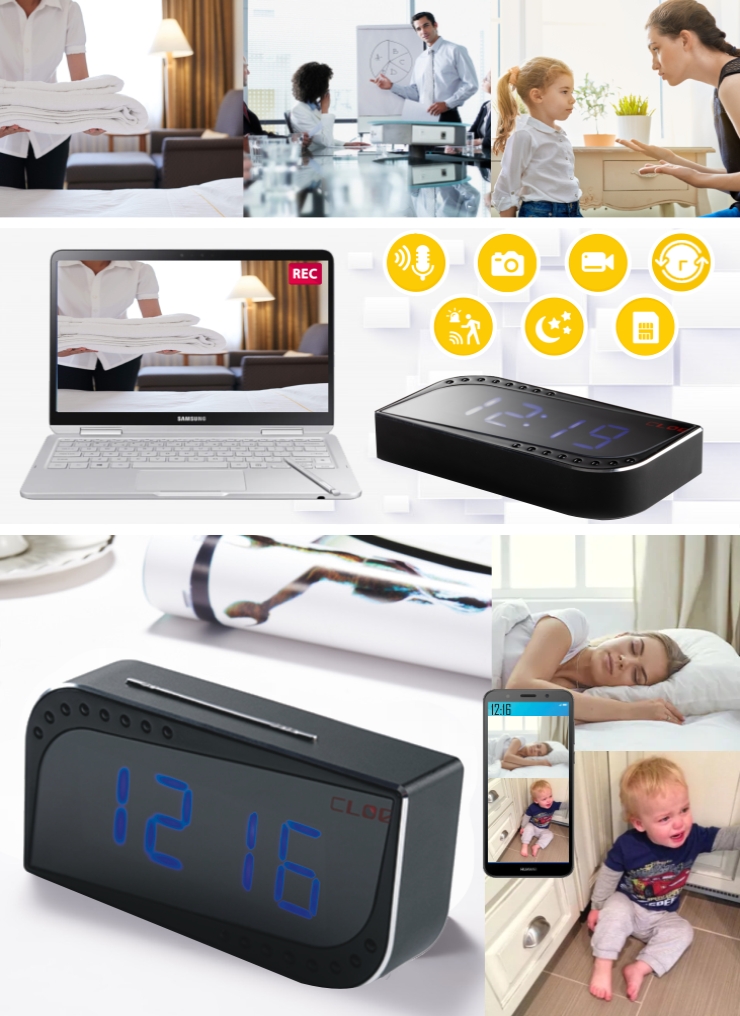 A micro-camera hidden inside a desk clock is a very convenient spyware device that can be used for secret surveillance of residential and business premises. This spy camera allows real-time monitoring of everything that is happening in a controlled area. You just need to access the camera and watch live events at home or in the office.
An alarm clock with built-in spy micro-camera allows secret recording and storage of recorded material on a memory card. In addition, the user can choose whether the camera will be activated only when detecting motion detection. This option is very practical and greatly facilitates a later overview of the saved recordings.
The user can select multiple secret surveillance options or can set the device for audio and/or video recording or photographing. Thanks to the wide eye view, the camera records even the smallest details, and high image resolution and sound quality maximally facilitate the playback. Practically, this camera can capture both the smallest detail and the quietest sound, and hence it is one of the best spyware devices available.
A spy alarm clock with a micro-camera is at first glance a simple, well-designed desk clock that shows time, date and temperature. However, behind its display, there's a very well hidden micro-camera that cannot be seen even from the immediate vicinity. The advantage of this spyware device is that it does not have to be hidden, it is enough to just leave it on a desk, shelf or other convenient places for covert surveillance and you will have an insight into everything that is happening.
How to use a spy alarm clock with a hidden micro camera and its features?
The spy alarm clock is very easy to use. It is controlled by a remote controller. Namely, by selecting the appropriate buttons on the remote controller, you can choose to record video, audio, or take photos with or without motion activation. From the back of the watch, there is a cover that needs to be removed because there is a micro SD card slot inside which all the material is stored, as well as the USB cable slot.
After inserting the memory card in the device, simply place the clock at a suitable place in the apartment or business area and watch live in everything that's happening in the area you are monitoring. If you do not want to watch in real time, you can decide to record only when something is happening in space. This means that the camera starts recording only when it detects a movement.
The spy camera in the alarm clock allows a wide angle of recording and thanks to its excellent night vision, it provides high-quality video material in low light. When you want to review the recorded material, you need to connect the camera using a USB cable to your computer or laptop, and some models also have the ability to store data on the phone's memory.
In which situations can a spy alarm clock with a hidden micro camera be used?
A spy alarm clock is ideal for controlling any residential or office space. At home, you can use it to control your children, a babysitter and other staff engaged in-home help. In business, it can be used to control and monitor employees in offices and sales facilities. It can also be set up in conference and meeting rooms.
So, with this clock, you can easily find out what your kids are doing while they are alone, how they are treated by a person who is entrusted with taking care of them, as well as a range of other information that can be of use to you. This way you can protect your valuables from theft, damage, and other harmful actions.
In the business area, setting up an alarm clock with a hidden microcontroller allows you to see how your employees relate to the job and to their colleagues, as well as a number of other details that may be relevant to your business. In addition, you do not have to worry if anyone will detect the existence of a spy camera. It is skillfully masked behind the clock display and all that is needed is to place it in a suitable place.
Call our experts and inquire which device from the range of spy equipment best suits your needs. We are at your disposal for any additional questions and information.