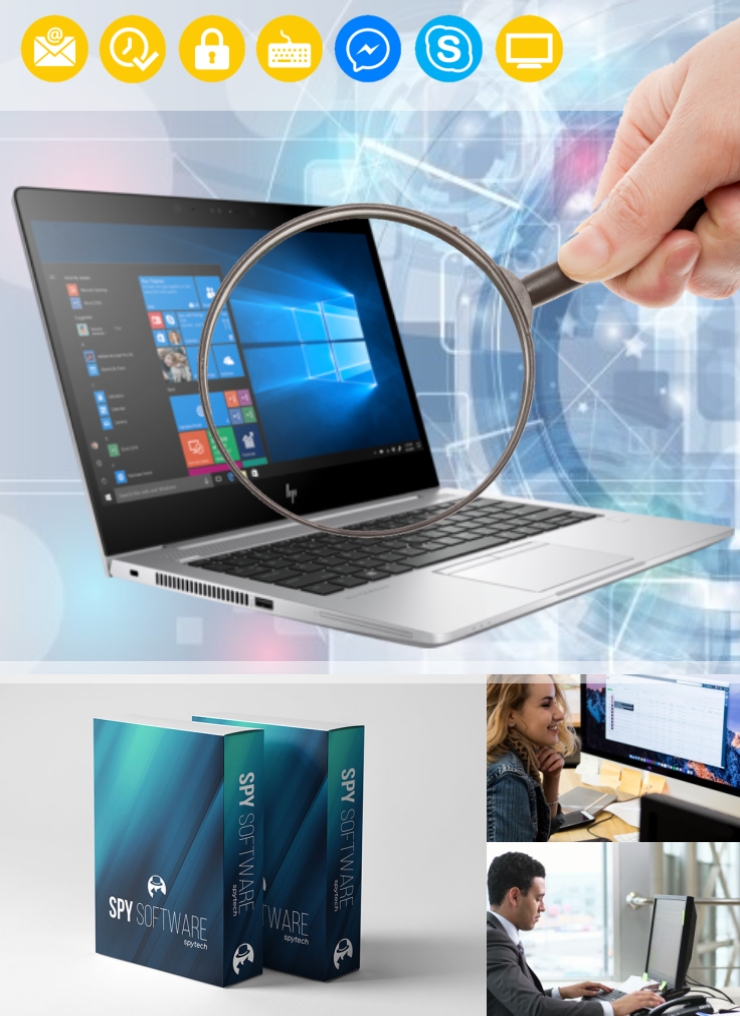 SpyTech Spy Software for PC is a program that gives you full insight into all the activities the computer user performs on it. The software monitors everything that someone does on the computer on which it is installed. It can be your child, spouse, business partner or employee.
SpyTech PC Spy Software is an award-winning PC spy software that functions completely unnoticeable. This spyware program runs in an invisible mode, which means it cannot be detected by the user, and only you have the ability to control it. All information collected is sent directly to you by email, so discretion is fully guaranteed. Data can be accessed whenever and wherever you want, it's only important that you have access to your mail.
The program captures also the erased activities, so the surveillance is complete and thorough. It can also be used if you want to restore forgotten passwords or deleted data.
It takes up negligible memory and does not occupy much space on the computer, which in practice means that it does not block and slow down the operation of the computer on which it is installed.
PC spy software is installed quickly and easily, it takes only 20 minutes to be completely imperceivably implemented in the computer.
SpyTech PC Spyware is a genuine product from our offer so you do not have to worry that this program will damage your computer or erase important data. This often happens when such software is purchased from unverified vendors or downloaded free from the Internet since these options are mostly infected with viruses, do not work well or are only trial versions that will not be of much use to you.
How to use SpyTech Spy Software and its technical features
Installing spyware on a PC is simple and it takes just twenty minutes. You can install it yourself, or let us do the installation for you, by remotely accessing the computer, or by bringing it directly to our store, at full discretion.
If you are not able to bring your computer, you can give us remote access to your computer in order to make the installation. You can also choose the option to purchase the original SpyTech software to monitor the operation of a PC with detailed installation and usage instructions, so you can do it all by yourself. After installing a spyware program into the computer of the person you want to track, it collects all activities and the data and sends it to your pre-defined e-mail.
The email accounts and social networking codes for this powerful spyware program are not an obstacle. With it, you can find out absolutely everything that is done on that computer.
Spyware for PCs completely unnoticeably monitors and spies on the computers:
User activities on email

Visited web addresses and sites
Passwords
All uploaded and downloaded files
Screenshots in the time intervals you set yourself
All installations and uninstallations of various programs and applications
Using the keyboard (letters, numbers, hidden characters)
Lastly, it can record and compress audio and video with the ability to adjust the date and time of recording.
For what purposes can the SpyTech PC Spyware be used?
With spy software for PC, you can discover valuable information that can significantly affect your business and private life. For example, this software can help you find out what they are doing and with whom your children, spouse or emotional partner spend their time, and in addition, it also represents the perfect tool for controlling and supervising employees and protecting them from business espionage.
By installing PC tracking software on your child's computer, you can get extremely important data and prevent any unwanted situations and problems on time. You can use SpyTech PC software to find out who your child really is hanging out on the Internet and outside the home, what kind of activities they are interested in, whether they are in contact with some unsuitable company, are they members of some dangerous organizations such as sects, is someone blackmailing or abusing them on the Internet and much more.
If you notice that your partner spends too much time on the Internet and social networks and you suspect something is happening, it's time to check it out and find out absolutely everything about their activities and intentions. In this way, you will eliminate or confirm your doubts and get the opportunity to take further steps to resolve the existing situation in your emotional and marital relationship.
When it comes to employees and business in general, this software is an irreplaceable business ally. With it, you will have an insight into what your employees do. You will get to know whether they spend their time doing their work duties or surfing the Internet, chatting and watching movies, and if maybe they are stealing your valuable business data and passing it on to the competition. This will protect you from many unpleasant situations, prevent damage, protect and improve your business.
If you have any concerns or are interested in more information about our PC spyware software, please call us and we will explain in detail everything that interests you and give advice on choosing a suitable spyware device.