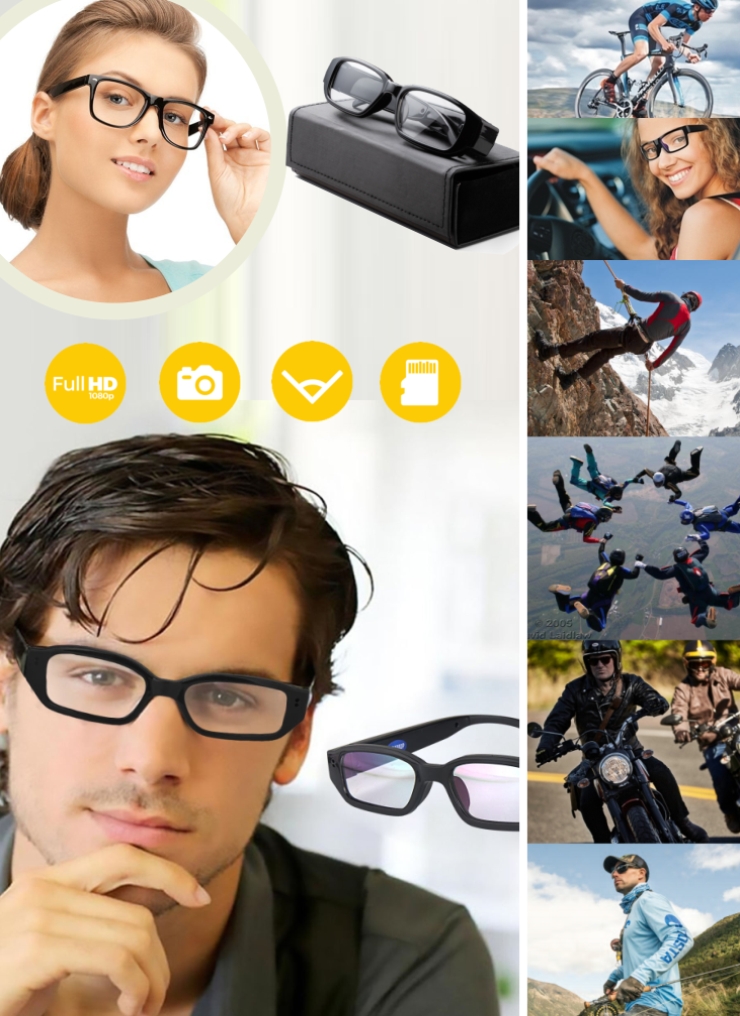 The micro-camera in the glasses is a practical spy device with cutting-edge technical features. With these spy glasses, high-resolution audio and video recordings can be made, as well as high-quality photos. Recorded material is deposited on a micro SD card up to 32 GB and can thus be viewed later in detail.
Spyglasses have an integrated rechargeable lithium battery that, after being emptied, is charged with an ordinary USB cable connected to a computer, laptop or adapter. The glasses look like any other glasses of modern design, so their spy role is well-masked.
The micro-camera in the glasses can be used to capture a wide range of events and circumstances. This sophisticated spy miniature camera is very well integrated into the frame of the glasses and cannot be seen even from close proximity, mainly thanks to the absence of a glare from the camera lens, which makes it a very suitable spy tool.
The micro-camera in the glasses is a favorite among detectives, investigators, and paparazzi. During a secret operation, spy glasses allow them to imperceivably tap, record or photograph a target while hiding their identity behind the glasses. In addition, spy goggles can be used by everyone, because handling them is extremely simple and represent an indispensable part of the equipment of extreme athletes and adventure lovers so these glasses are also suitable to be given as a gift.
How are the spy glasses and their features used?
To activate spy glasses, first, insert the micro SD card into the slot provided for that purpose. Then you need to charge the battery. You should do this with a USB cable that you can connect to a computer or a suitable adapter. When inserting the card and charging, the device must be turned off.
When the memory card is inserted and the battery is full, the device is ready for recording. It is controlled by the buttons that are located on the frame of the glasses. By pressing the desired key, the device turns on, and from that moment on it is in a Stand By mode ready to execute the given option. By briefly pressing a particular camera key, the video starts to make audio/video recordings or photos.
The recording is also stopped by holding a certain button a bit longer. Everything is recorded automatically on the memory card and can be viewed in detail later. To play the recorded material, you need to connect spy glasses to a PC, laptop, or other compatible devices.
To connect spy glasses to your computer, you do not need any installation disc, only a USB cable. The computer will recognize the device itself and offer you to select the next step. When you transfer recorded material to your computer or laptop, you can view it in detail. The only thing you need to keep in mind is that the device needs to be completely turned off when connected. Only then can you upload the material to a computer or other compatible device.
In which situations can a micro-camera in glasses be used?
The micro-camera in the glasses can be used to capture not only covert operations but also various events and activities. Motorcyclists, bikers, skiers, and other extreme athletes are delighted to use the glasses since these allow them freedom of movement. The same goes for car drivers, mountaineers, skiers, hunters, and fishermen.
Namely, we are talking about extreme situations when a person has to concentrate on what he or she is doing and, in such circumstances,  there is no other possibility for the event to be recorded except with the use of such a micro-camera. These are, therefore, the so-called GoPro footage that records interesting adventures and actions of a user. That's why the spy glasses are a nice, practical, and useful gift to treat your friends on all occasions.
Spying glasses are also of great benefit to detectives, investigators, and journalists. Many famous paparazzi images were created with these spy glasses. Detectives often use them in their secret actions because they are practical to use, and because there is no need to hide the device. In this way, many particularities and specific details were recorded that otherwise could not be recorded by only using a classic camera.
Call us, choose your model of spy glasses and record everything you want. We are at your disposal for any advice and for any questions you might have.