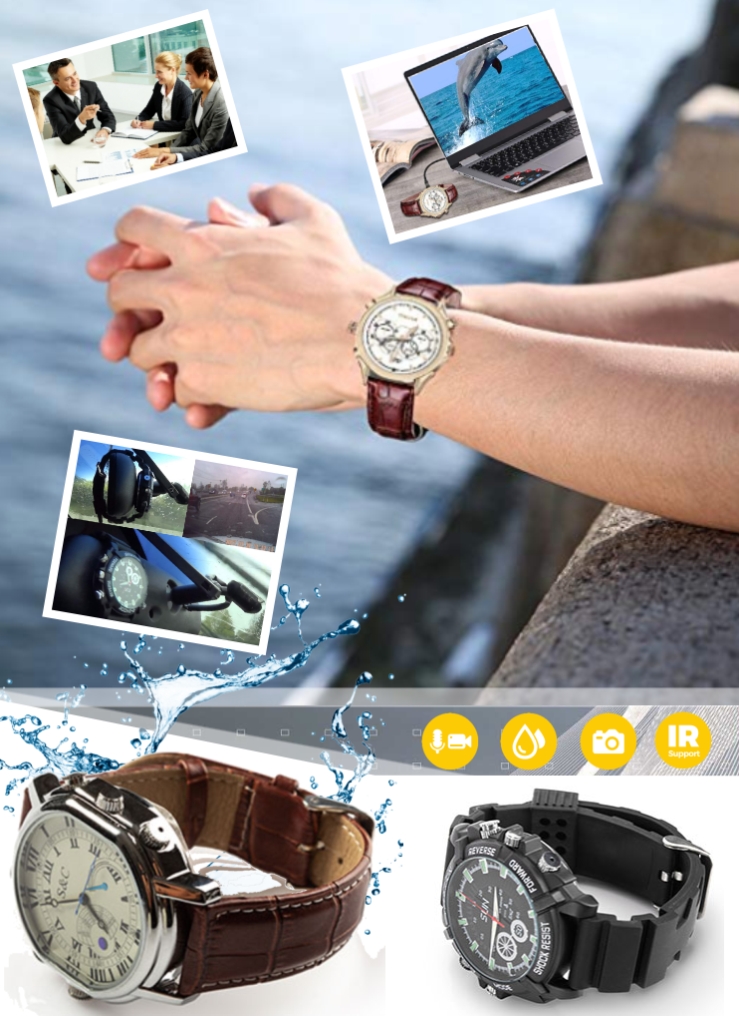 A spy watch is an irreplaceable spyware tool. It is practical and it has a modern design with top technical features that enable the highest quality recorded material. Spy watches look and function like any other analog clock. Inside it, there is an integrated high-resolution micro-camera with which it is extremely easy to handle.
By pressing the corresponding key, the user chooses to record the only video, only audio or to take pictures using a spy wrist watch. Thanks to its quality night vision, the micro-camera in the watch ensures excellent video and still images at minimum lighting, and an optimal viewing angle of 90 ° allows even the most demanding spyware maneuvers.
A spy wrist watch has got two batteries, one for clock operation and the other for the operation of a micro-camera. The battery that powers the camera has a capacity of up to 90 minutes of recording. The internal memory is 8 GB and for the viewing of recordings, it is necessary to connect the camera i.e. the watch to a computer, a laptop or to any other similar device.
Spying wrist watches can be used by detectives, investigators, journalists, paparazzi, students, scholars, business people and all those who want to secretly record an event or a situation. Quality of this wristwatch, its modern design with adjustable clasp and leather, metal or rubber bracelet make this spyware technology a very attractive gift for all occasions.
How to use a spy wristwatch with a hidden micro-camera and its features?
Handling the spy watch is very easy. It is controlled by two buttons on the watch, which does not differ from the usual buttons on any other wrist watch. With one button, the device is turned on and the desired recording options are selected using the other one, i.e. a short press on another button requires photographing, and a longer 3 seconds pressure marks the beginning of recording audio and video.
After recording, it is necessary to connect a spy wristwatch to a computer or laptop. The devices are connected using a USB cable with a combined input. Namely, there is a special button on the watch, which looks like the usual winding button, or the button for setting the time, that needs to be taken out. A USB jack is inserted into it, while the other one is inserted into the computer.
When the devices are connected, all you have to do is transfer the images and preview the recorded material. The quality of the recordings, including the sound is at a premium level, high Full HD resolution, sharp image, and clear tone make captured material suitable for any type of further use and playback. An hour battery is powered by a special cable and the watch is waterproof, making it absolutely suitable for use in specific circumstances.
In which situations can a spy watch be used?
A spy wrist watch can be used in a variety of situations. It is an integral part of the spyware of detective and investigative agencies, primarily because of its discretion and easy management. Wearing this watch does not cause any suspicion, leaving his user with enough room to dedicate himself to recording the secrets of the operation without thinking about the camouflage of the device.
The watch is also a very convenient and useful tool for journalists and paparazzi, and it is often used by students to record lectures and exams. Nature lovers and adventures are eager to wear it in order to quickly record some specific situations or areas through which they pass. Namely, the spy watch is very practical, it's already located on your hand and all you need to do to start the device is to press the appropriate key.
Business people can also use a spy wristwatch on numerous occasions. They can record business negotiations, secret agreements, capture notes from meetings, and so on. Since it's a modern watch of a beautiful design, a spy watch is very attractive as a gift, and we can also provide spy watches with Citizen, Longines or Omega mechanism.
Call us and choose one of the models of spy wrist watch from our offer and see for yourself their quality and functionality. We are at your disposal for any additional questions and information.