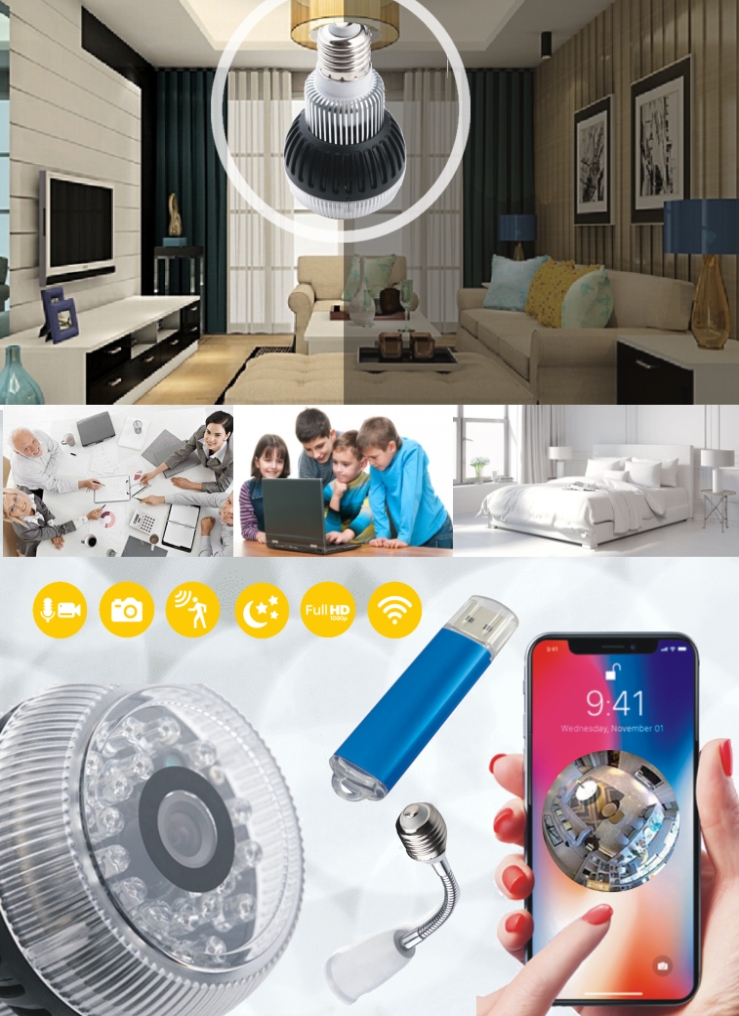 The spy camera in the bulb allows for equally high-quality audio and video surveillance of any area in the day and in night conditions. It is easy to install; camera control is practical, and the user can select multiple playback modes of the recorded material. Since it is placed inside the luminaire, this spy device is perfectly camouflaged, and accidental detection is impossible. The lamp works smoothly and the room in which it is installed can be monitored remotely since the camera can be connected to any Wi-Fi router in its vicinity.
With this spy camera, the user can record audio and video and high-resolution photos. No special knowledge is needed for its installation, so the user can set the camera or the bulb itself, and all he or she needs to control the camera is an application that is to be downloaded from the Google Play service.
Inside the spy camera in a light bulb, there is a memory card slot storing up to 64 GB of recorded material. Anything that was recorded can be viewed later by connecting the camera to a PC, tablet or laptop. The camera also has the option of recording and saving directly to these devices or to the user's mobile phone and it supports all operative systems.
With the camera in a light bulb, security and secret surveillance of employees, children, spouses can be carried out.
How to use the spy camera in the light bulb and its features?
If a user wants to watch from an unlimited distance using a mobile phone, after installing a spy camera in a light bulb in a room that is to be monitored, it's enough to connect it to an application intended for this. If a user wants to record it is necessary to place the memory card in the slot provided for that purpose which is unnoticeably located on one side of the bulb. It is necessary to do this in case you decide to store the data this way. When you want to view the recordings, it is not necessary to remove the bulb, since through the application on your mobile phone you can access the recorded material. And you can also take out the memory card, put it in the reader, and insert it into a computer or a laptop.
Playback is simple thanks to the motion detection function. This means that the camera turns on and records only when it registers some movement in a controlled area. This feature is useful in many ways because it saves space on the memory card and allows you to easily view the recorded material as there is no blank time on the recordings.
The camera is managed by the P2P Live Cam application that is to be downloaded from the Google Play service. After installing the application to a mobile phone or another device, certain settings must be adjusted. Turn on the Wi-Fi and your device will detect the signal emitted by the camera.
The camera mode is selected using the application, i.e. the choice is made on whether to create an audio/video recording or to take photos. Also, the application can be used in order to turn on and off the light of the bulb, and by clicking on the appropriate icon, the light indicators can also be switched off.
In which situations can a spy camera in a bulb be used?
A spy camera in the bulb can be used for numerous surveillance operations as it is perfectly camouflaged. It can also be used for security monitoring of any space. This camera can be used to controlling the employees in offices, warehouses or sales facilities. It is also suitable for use in residential areas for controlling children, workers, marital or emotional partners.
Installation of this camera enables control over the work of employees, protection of property from damage and all forms of unlawful manipulation. If your goods are out of stock, here's the perfect way to find out what this is all about. You can find out how your employees are related to the work and to their colleagues, as well as many secrets and speculations in case these exist in a working collective. This camera can protect you from corporate espionage and from giving away business secrets to the competition.
If you install a spy camera in a light bulb in an apartment, you can have insight into everything that is happening in your home when you are away. This is excellent for controlling children, a babysitter, helping staff or a spouse. It can also be used to protect safes and other valuables. The device supports all operating systems on computers and phones, so there is no need to install special programs and plug-ins.
Call us and get detailed information about this and all other products from our offer that can help you solve your problem. We guarantee absolute discretion and privacy.