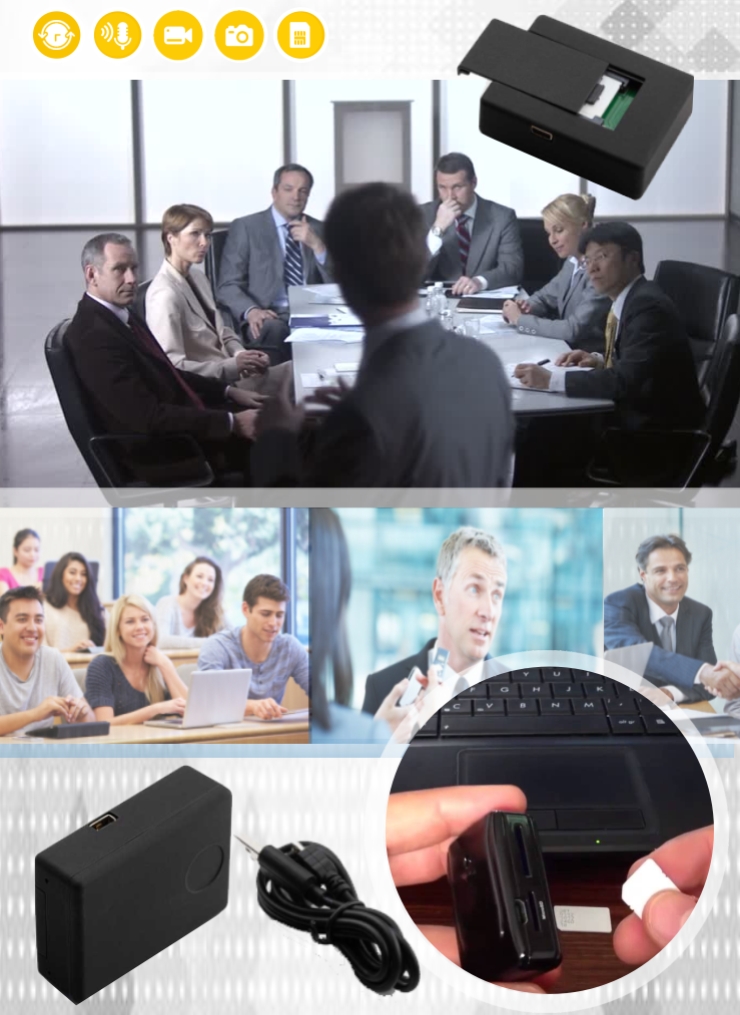 Spy bug – GSM eavesdropper is a spy device that allows you to listen in on a live broadcast to everything that is happening in the area that is the subject of eavesdropping. For its functioning, it is only necessary that there is coverage of a mobile network. This means that its reach is practically unlimited, and it is sufficient that there is a signal from a mobile operator to perform the eavesdropping in real time.
Spy bug – GSM eavesdropper is a device of small dimensions and inconspicuous design. It can be placed or hidden anywhere in a residential, office space or car. It is activated silently so there is no danger of it being detected. Activation itself can be either by a call or by SMS.
The device can also be set to voice activation, which means it is activated only when it registers sounds in the room. Then the user receives a call from the number of the SIM card that was pre-set in the device and can listen to all conversations in the supervised area. Voice activation is put into operation by sending an SMS message to the number of the installed SIM card. By sending another text message with specific content, the voice activation function can be turned off.
The sound quality is at the highest level thanks to a special filter that effectively eliminates background sounds and neutralizes noise. The sound that is played is crystal clear and clean since the device is supplied with a special microphone amplifier and the encoded GSM frequency prevents the possibility of interfering in the connection.
How to use a spy bug – a GSM eavesdropper and its features?
The usage of this perfect spy device is extremely simplified. Before using it, you should just insert the SIM card of the selected mobile operator into the device.
Thereafter, the device needs to be placed at a specific hidden location in the area which is to be monitored. The eavesdropper is easy to hide due to its small dimension. It can be hidden on a bookshelf, among children's toys, underclothes, in desk drawers, and if a double sticky tape is used, it can be glued under a table, a chair, an armchair, a couch, behind a cabinet or in any other suitable place.
When the eavesdropper is well camouflaged, it needs to be activated for listening purposes. The user can choose to activate the device by calling or sending an SMS. If call activation is selected, the user dials the number from the SIM card inserted and after the second ring, which is absolutely silent, the device is activated and can listen to everything that is happening.
For voice activation, the user needs to send an SMS message of certain content to the number of the SIM card and as soon as it registers some sound in the room, the device is activated. The turning off of the voice activation function is also performed by sending a text message of specific content.
In which situations can a spy bug – a GSM eavesdropper be used?
The possibilities of using spy bugs – GSM eavesdroppers in secret operations are practically unlimited. It is one of the most useful tools of detective and investigative agencies, and its application is not only to be found in audio control over residential and office space but also in cars. The device has an original Apple rechargeable lithium battery, with up to 14 days autonomy in Stand By mode, so that there is no danger that the connection will be interrupted at an inconvenient moment.
It can be installed in any workspace, such as offices, outlets, service desks, and other official premises. In this way, the user can listen live to what they are saying, and how his employees are being affected by the work and clients. This spy bug can also be used for live tracking of meetings and business negotiations.
At home, it can be used for the supervision of children, spouse, and household workers. By activating the device, you can immediately find out what's happening in your home right in that very moment and take the necessary measures in order to prevent any damage.
Also, a spy bug can be hidden in a car and in that case,  it is a very useful tool for tracking and controlling cars. In this case, the spy bug can be connected to the car battery so that there is no need to recharge it.
Call our experts and get detailed information about all the features and advantages of this GSM eavesdropper and we will be happy to answer any additional questions.