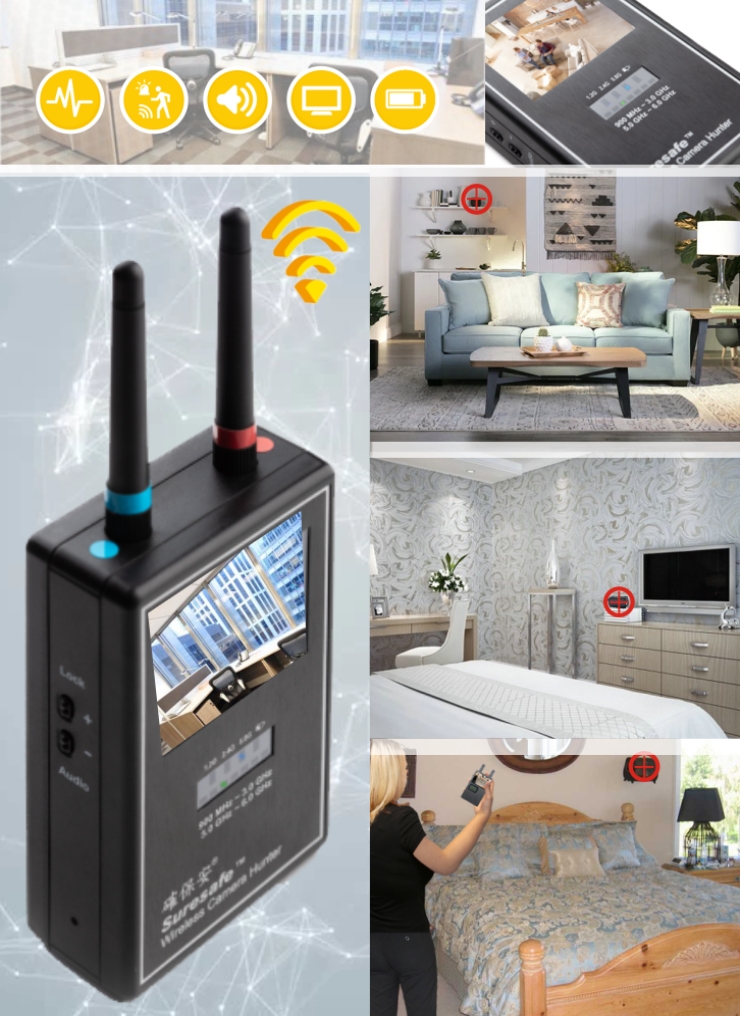 The WiFi camera detector is the latest generation device that in less than 10 seconds accurately and infallibly detects the frequencies of all wireless cameras in the search area. This detector was created as a product of Israeli military technology and is being used by many well-known security agencies, which additionally confirms its quality and functionality.
The detector of wireless spy cameras works by automatically scanning the frequency of any video signal within a range of up to 500 m, even through obstacles. Works on frequencies of 900-2700 MHz, where all known wireless cameras operate and can be powered through batteries or through electricity.
A professional detector of wireless spy cameras can also be used as a "jammer" and "blocker" of the signal so that you can use it in order to prevent eavesdropping and leakage of confidential information.
In addition to wireless cameras, this sophisticated multifunctional device can detect other eavesdroppers in your home, office space, cottages, hotel rooms, and any other room that you suspect are being secretly recorded.
The WiFi micro camera detector is very easy to use. It is small in size and you can carry it all around with it and easily search for the rooms you want.
Finally, all of these features provide the ability to use a wireless camera detector as spyware for secret recording.
How to use a wireless camera detector and its features?
A portable wireless camera detector is very easy to use. As soon as it is turned on, it will automatically start scanning the frequency of any video signal within a 500 m range, even through obstacles, which depends on the signal strength of the very video camera it detects.
When it detects the frequency of the Wi-Fi camera, it informs you by emitting a sound signal. It usually takes less than 10 seconds to detect a Wi-Fi spy camera. On the small LCD screen of the detector (1.25 "), the exact frequency of the video signal of the spy camera is immediately displayed, and what is displayed on the bigger, higher-resolution screen (2.5") is an image of the site that is being secretly recorded, or which the camera is pointed at. With another push of the detector switch, it will begin scanning the frequency of the video signal in case there is another wireless camera nearby.
Scanning can be done automatically or manually.
In addition, whatever you are searching for, you can also record it or connect a detector with external video recorders (AV OUT), such as a TV, laptop, or computer.
A wireless camera detector with highly sensitive antennas can be used as reliable spyware protection and at the same time as a spyware device. This spy cameras scanner has its own power supply to rechargeable lithium batteries and can also be connected to a continuous power source, i.e. it can be powered through electricity.
For what purpose can a wireless camera detector be used?
The wireless camera detector is an excellent ally in the operation of military and security agencies. Also, professors can easily use this portable detector to detect and stop students and pupils who use unauthorized spyware when doing an exam.
It is used to detect spy wireless cameras in residential areas, offices, cars, cottages, garages, amphitheaters … It is an excellent solution for all business owners who want to protect themselves from industrial espionage and prevent the leaking of important business information.
In addition to using this multi-purpose spy wireless camera scanner to "clean" the environment from spyware, it can also serve as a reliable eavesdropping device.
It's important that you know that this professional detector of wireless spy cameras can be found only in SpyTech offer. So, call us and, visit our sales space with full discretion and we will help you to successfully get rid of all spyware in the area.