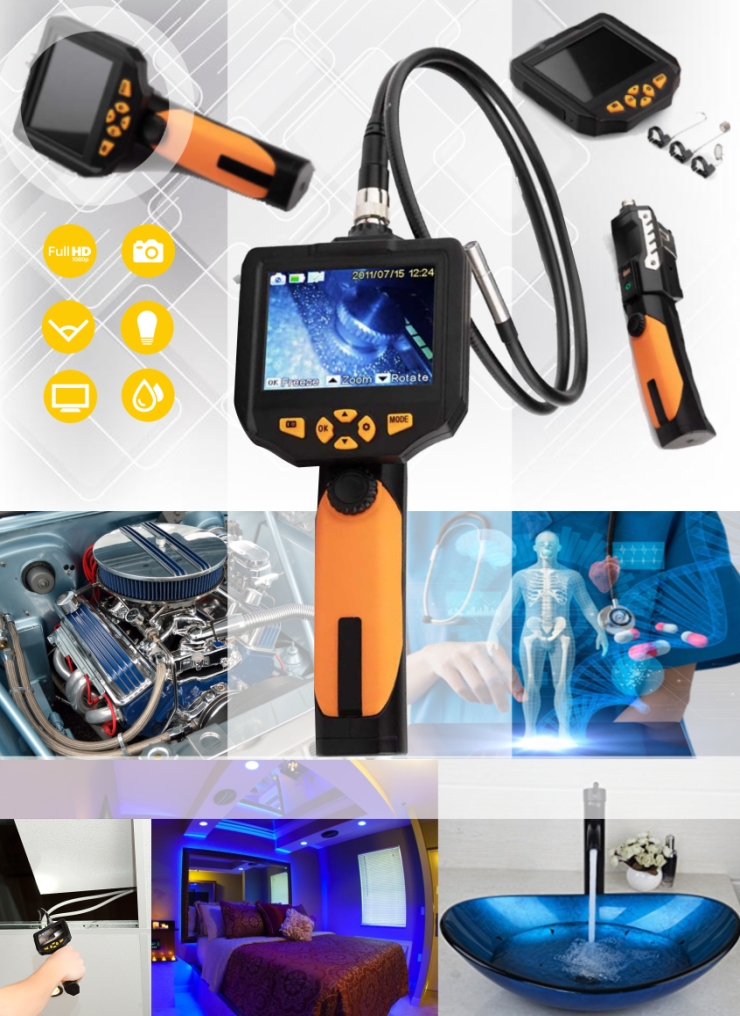 An endoscope spy micro-camera is an instrument used for recording in hard-to-reach places. It is most commonly used in the automotive industry and in medicine, but it can also be used as a spy camera for discreet recording and eavesdropping.
The spy microcontroller endoscope is made up of a flexible cable on one end of which there is a probe 300 cm long with a 3 Mpx resolution camera. At the other end of the cable, there is a colour LCD monitor that shows the image the camera emits. The camera's shooting angle is 60 °, while the monitor has a digital zoom and can be rotated 360 °.
The endoscope camera has 6 white LEDs that emit light. With the help of a potentiometer, the brightness can be adjusted to allow secret recording in narrow dark channels and cavities.
Microscopes in the endoscope can make individual photos as well as colour video. The material recorded by the endoscope with a spy camera is saved on the internal memory or on a micro SD card. Using the USB cable you get in the package, you can easily transfer photos and videos to your laptop or computer.
Endoscope camera is made of high-quality waterproof material, which gives it the ability to be used in different environments. This spy camera is powered using a 4AA battery.
How to use endoscope camera and its features
The endoscope micro spy camera has the form of a highly flexible and flexible cable that allows recording in hard-to-reach areas. On one end of the cable there is a probe and a camera, and on the opposite end, there is a colour LCD monitor of 3.5 inches. The probe endoscope is 300 cm long and the resolution is 3 Mpx.
With endoscope camera you can take coloured photos with different resolutions up to 2048 x 1536 P). The micro camera in the endoscope can also make audio-video recordings in a resolution of up to 1280 x 720 P. Thanks to the light emitted by 6 white LEDs, the endoscope camera can also be used for recording in dark and narrow areas. Through potentiometer, the brightness of the diode can be regulated and adjusted to the environment. The angle of the shooting of the camera is wide, 60 degrees.
Everything that the camera records is stored on its internal memory, i.e. om a micro SD card that can support up to 32GB of material. Recordings can be viewed directly on an LCD monitor that has a digital 4X zoom that magnifies the observed object and makes it easier to watch. You can adjust and rotate the monitor by 360 degrees. Also, if needed, you can use a USB cable that comes in a package with the endoscope spy camera and transfer the recordings to other devices, a laptop, or a computer. The camera supports all current operating systems, so you can browse and rewind all of the material on your device.
Endoscope camera is made of waterproof material, so you can record in humid environments with no fear.
For what purposes can you use an endoscope camera?
An endoscope micro-camera is a mini-device for recording and observing hard-to-reach environments and areas, so its application is most commonly found in the medical and automotive industries, but also for the luggage control at airports. It is also convenient for the Border Police to review highly accessible and hidden parts of the vehicle. This camera is an ideal tool for car mechanics and irreplaceable when inspecting the engine and other inaccessible, narrow and dark parts of the vehicle.
It is small in size, very flexible and easy to adapt to the environment, and it can be used to record and detect failures in the interior of various pipes such as sewage pipes and gas pipelines.
You can adjust the brightness of the 6 LEDs, so this spy mini camera can make high-quality photos and audio-video recordings even in dark areas. This makes it an ideal spy device for any occasion when you want to explore or collect evidence from hard-to-reach places where classical spy cameras are of no use.
This endoscope camera can be your reliable ally in researching nature, rare plant and animal species, during hiking or speleology. You can also use it for recording in wet and underwater areas because it is waterproof. The mirrors and magnets you get with the camera will make it easier for you to use it and help you make the most of its performance.
You can watch videos directly on the LCD monitor or store the videos on the camera's memory and later transfer those videos to your own computer or laptop.