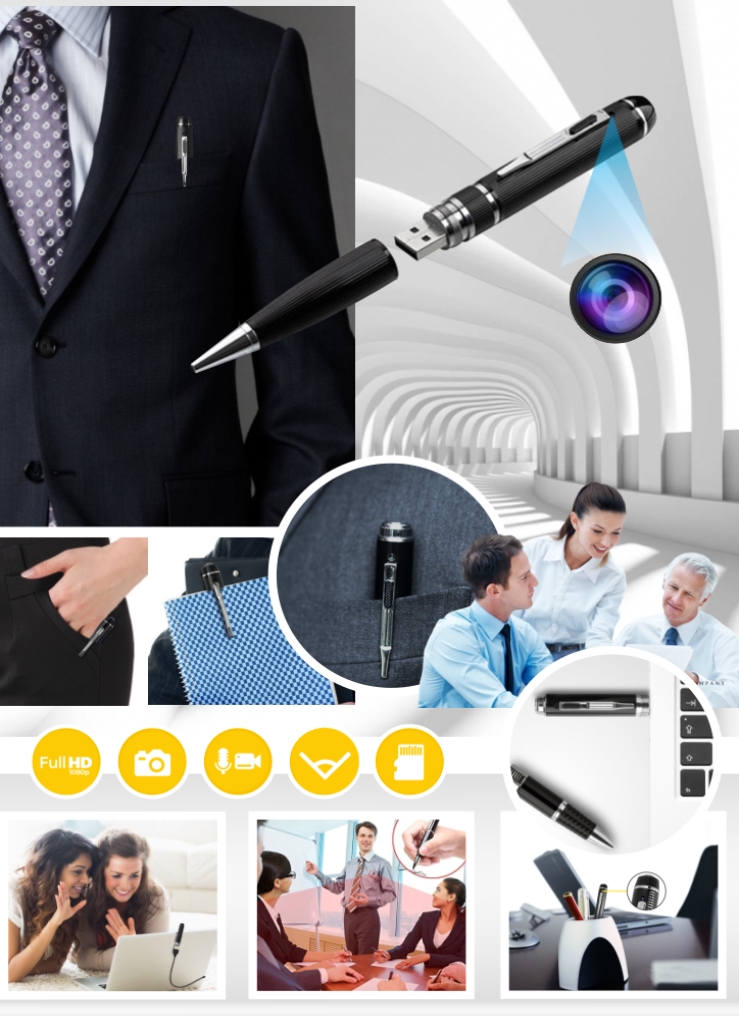 A spy micro camera placed in a pencil or a pen is an irreplaceable spy device when you need to photograph or record something quickly and discreetly. In a seemingly ordinary functional pen, there is a fully imperceivably inserted micro spy camera that provides the ability of secretly photographing and audio/video recording in Full HD resolution.
The angle of the shooting of a micro camera placed in a pen is wide and it is 90 degrees. The highly sensitive microphone provides the ability to make an audio/video recording at a distance of up to 10 m, and the SMD filter neutralizes background voices and noise, which contributes to the quality of the recording.
A pen with a micro-camera is one of the most practical devices for discreet recording and photography. Since it looks and functions as an ordinary pen, no one can even assume that a spy micro-camera for secret recording is hidden within it. The micro-camera lens is discreetly placed on the top of the pen, while the bottom of the pen is a pen. Photos and audio/video recordings are stored on the internal memory of a micro-camera with a capacity of 8 GB. With the USB port located below the top of the pen, images, and photos can easily be transferred to a laptop or a computer and reviewed and rewound in peace.
This special multi-purpose spy pen can also be used as a classic USB flash memory.
How to use a spy pen and its features?
A spy pen consists of two parts. Inside the upper part, there are durable high capacity lithium batteries (550 mAh), camera electronics, microphone and micro SD card slot with capacity of up to 8 GB. When the pen opened up in the middle, there is a USB port in the upper part.
A spy micro camera in a pen is used easily and completely imperceivably. All adjustments are made using only one button located at the top of the pen. On the outside of the upper part of the pen, there is a hidden camera lens (in the slot), a button for turning the camera on and off, which at the same time selects the operating mode. By simply, by long or short keypress, you can choose whether to record audio or video or just to take pictures. The first press activates the micro-camera, the second one is the photographing option, and by holding the button for more than 3 seconds it starts recording.
It is characterized by high image resolution (2560 x 1920 Px) and exceptional data entry speed.
The micro camera in the pen is charged via a USB cable while connected to a computer or via a home charger. The autonomy of the integrated Li-ion battery when recording a video is up to 90 minutes of continuous recording, and if you only make audio tracks, the battery will last considerably longer. Recorded material is stored on the camera's internal memory, and later it can be easily transferred via USB to a laptop or computer. The spy camera in the pen supports all current OSs.
For what purposes can a spy pen be used?
A pen with built-in micro-camera is easy to use and has a wide range of applications. It is possible to use anyone who has the need to photograph something covert and secretly in a quick and discreet manner. Nowadays, smartphones are often used for shooting and taking photographs. However, it is unlikely that you will be left unnoticed if you try to record something with a mobile phone camera discreetly. Here, a spy micro camera, camouflaged in a pocket pen can be of great help.
You can carry it with you and use it whenever you need it. Put it in your pocket of jacket or shirt, which will give you full freedom of movement, and the spy micro camera in the pen will record everything that is going on and around you.
This spy pen can be the perfect secret ally to business people, business owners, and managers. It is ideal for the discreet recording of business meetings and arrangements, important events and exhibits of different types. Pupils and students can use it to record lectures and important lessons. It is often used by detective agencies as an irreplaceable spy device in their work.
A spy pen is made of high-quality durable plastic, it is of modern design and can be used as a regular pen for writing.
Call us or come to our store and we will help you choose your spy micro-camera in a pen.